Ultimately Practical Yet Unconscientiously Fun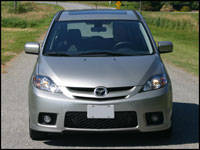 Will the Mazda5 sell well enough to deem it a success? (Photo: Trevor Hofmann, Canadian Auto Press)
Is Mazda taking a big chance launching its compact
Mazda5
minivan in North America? After all, mini-MPVs may do well in Europe where the average vehicle size is much smaller than on this side of the Atlantic, but most of its North American competitors are making larger vans, not downsizing.
Rest assured that the alternative Japanese automaker isn't about to replace its midsize MPV minivan with the new compact model, but rather fill a market niche that no rival has yet been interested in targeting. And at $19,995, the base GL version should interest a select group of buyers needing practical transportation but not willing or able to move up to the current crop of larger, more expensive vans.
But will the Mazda5 sell well enough to deem it a success? If enough people take the opportunity to snub convention and take one for a spin, I don't doubt that it will win over a large following. Why am I so confident? Well, the new 5 embodies all of the attributes that have so effectively won over the Japanese brand's loyal 3 and 6 following, the same practical enthusiasm that makes the
RX-8
one of the most inventive sports cars ever made.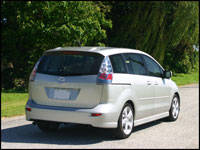 The added length and height compared to a Mazda3 allows for a third row of seats, resulting in the ability to accept six adults comfortably. (Photo: Trevor Hofmann, Canadian Auto Press)
If you can't tell, I'm a little smitten by this new arrival. I've always liked minivans. I appreciate how functional they are, and how life with one is so much more convenient than life without one. Sure, there are a handful of crossovers that offer seating for seven, the rearmost that almost always need to be children, but nevertheless reasonable interior roominess, car-like handling and the appearance of a go-anywhere SUV, but none can match the out and out versatility of a well designed minivan. Mazda's MPV is a fine example of just how good vehicles in this segment have become, but while slightly smaller than most of its peers it's still a relatively large vehicle, challenging for some to slot into "Small Car" parking spaces and heavier on fuel than an economy car. This is why I like Mazda's new 5 so much.