Sun Shines upon Man and Roaster
Probabilities can mislead. For example, the probability of enjoying a week of solid sunshine in Canada's rain forest concurrent with testing a roadster is as unlikely as being struck by a meteorite while hundreds of feet below the ground in a subterranean vault- but I guess it could happen. And so it did for me recently. The meteorite in question- a 2007 BMW Z4 3.0si.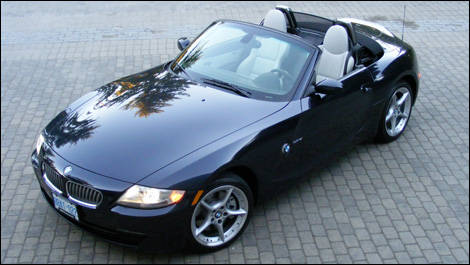 The Z4 has that little something that brings back memories of roadsters of yesteryear.


Distinctly BMW- distinctly roadster
There's something quite igniting in the Z4's aggressive styling, which burns its way into one's senses. Perhaps there's more to Bangle's "Flame Surface," design philosophy than I've formerly credited him with. Beyond the Z4's dramatic lines, I revel like a child in the way the car imparts a feel of nostalgia when seated behind its wheel. Whether that's intentional or not I can't definitively say, but a sense of occupying the cockpit of an open roadster from the 1950s and 60s germinates in me every time I take a seat in the Z4.
Contributing to the retro-response is the Z4's clean, simplistic instrument panel, its long rounded hood and its low-slung windscreen. But most of all, seating positioned just ahead of the rear axle is what delivers the traditional "roadster" character that is missing in many modern convertible sports cars. Adding to the Z4's true-roadster'ism is its naturally aspirated, inline six-cylinder mill that dispenses an auditory barrage full of credibility and heritage.
3.0si power and performance
The "si" designation represents the install of BMW's latest I-6: the 3.0-litre N52, featuring a lightweight magnesium block and BMW's latest Valvetronic, variable valve timing technology. Not only is this engine considerably more powerful than the standard Z4 3.0-litre mill, it provides much better mid-range response while improving cornering by lightening the load bore by the front wheels.
The N52 generates 255-horsepower @ 6,600-rpm and 220 pound-feet of torque @ just 2,750-rpm. That's 40 horsepower and 35 pounds of torque more than dispensed by the standard 3.0-litre engine; and what a difference it makes. Having driven the less powerful Z4 and been quite content with its gusto, I was absolutely elated burying my foot into the 3.0si. This engine pulls ferociously- especially on the highway where passing power is frankly startling.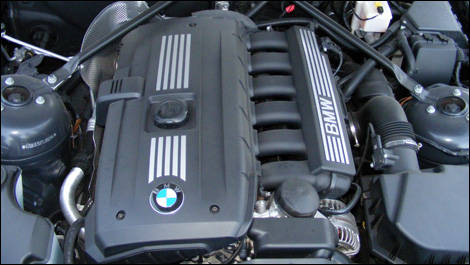 40 more hp create a big difference.