V for Virile
It's incredible to think that, not so long ago, the Cadillac brand was associated with drivers of a more. shall we say, advanced age. To make matters even more challenging, the cars themselves were saddled with a reputation for offering less than inspiring levels of roadholding or sportiness.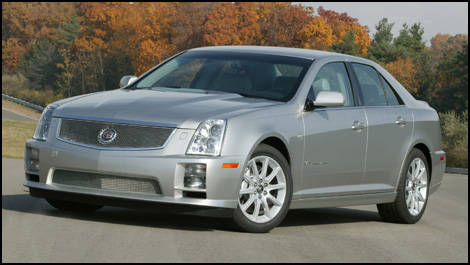 The Cadillac brand has fully reinvented itself; a model for every manufacturer looking to do the same.
Fast forward to the mid-2000s and the marque's image had been completely and utterly redefined due to the popularity of vehicles such as the autobahn-worthy CTS sedan, the bling-king Escalade and the futuristic XLR coupe/convertible. Today, the Cadillac brand is the model for every automaker seeking to reinvent itself and gain traction with completely new customer segments.
In 2005, the STS upscale sedan joined the Cadillac fleet, replacing the venerable Seville. Whereas the Seville featured front-wheel drive and an all-around softer approach to the sports sedan, the STS is rear-wheel drive and more business-like in keeping with its sharp-edged styling.
Most Powerful Cadillac Ever
Hot on the heels of the introduction of the STS, the performance version, dubbed the STS-V, debuted as a 2006 model.
The third Cadillac to bear the "V" designation (after the CTS and
XLR
platforms), the STS-V boasts a supercharged, 4.4-litre V8 that punches out 469 horsepower and 439 lbs-ft of torque at 3800 rpm. Impressive. Manufacturer estimates for a 0-to-100 km/h run clock in at less than five seconds. In theory, even more impressive.
In practice, the Cadillac performed well. It's clearly a very fast sedan, the Northstar engine capable of pulling like a dentist on a set of wisdom teeth. The 6-speed automatic transmission keeps things rolling along nicely, offering smooth shifts and the facility for the driver to select gears.
According to Cadillac, the unit is calibrated to automatically lower the power during shifts before ratcheting it back up again, making the shifts more seamless. Even in fully automatic mode, the transmission works well, holding lower gears nicely once the system adapts to your desires, allowing the V8 to spin up and the supercharger to whir with glee.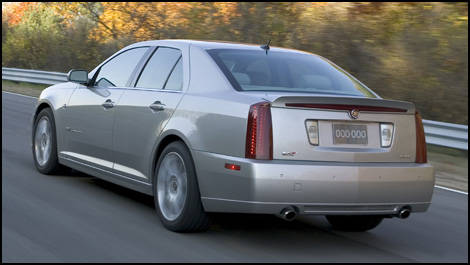 The STS-V is simply the most powerful Cadillac ever.