You could almost hear the division forming between consumers when it was announced that Honda was going to offer a pickup.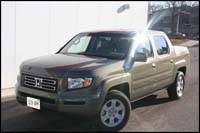 Did I see a Honda badge on that pickup truck?
Some would cheer- anxious to see how Honda quality and reliability would materialize into a 4x4. Others would roll their eyes and huff, namely the diehards who would drive no truck other than a Chevrolet, Ford or Dodge. This group uses Honda products to mow their lawns or to power the fishing boat they're towing off to the cottage behind their half-ton.
Apparently, some in this crowd say that machines like the Ridgeline aren't a real truck, and it's been my job for the past two weeks to see whether or not they're right.
Ridgeline
looks the part, with a stout, blocky body and plenty of squared off edges against an overall clean and simple silhouette.
It's also got all sorts of other truck stuff in place too: a bed, four wheel drive, a tall stance, tough construction, capability on and off of the road, and a bit of muscle.
But it's not that simple. Aside from all this, it's got a lot of car like attributes as well. Underneath its bed, for instance, is a trunk. You can store belongings in it, and it's weatherproof and lockable. There's even a drain plug, so it can be easily cleaned or filled with ice to keep your favorite camping beverage cold- try that with your Accord and you'd have a problem. The under-bed trunk is one of a few examples where the Ridgeline combines car and truck qualities in a way that is better than either one on its own.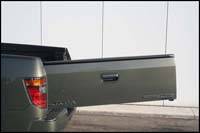 A tailgate that can be opened sideways.
There's even a tailgate with a split personality that opens sideways or downwards depending on the task. Trucks aren't supposed to handle the loading, unloading or storing cargo this easily.
They not supposed to be so comfortable either. The Ridgeline rides just like a car- so if you're retired and your back has had enough of solid-axle suspension, you owe it to yourself to check it out.
It's also easy to get into and out of, and the interior of the test vehicle was trimmed in heated leather and fitted with a sunroof,
navigation system
and subwoofer-equipped, 6-CD stereo system. It proved a relaxed place to spend some time with 3 or 4 friends and impressed with masses of clever storage. The rear seats even fold up and out of the way in seconds.
And despite it's truck-like size, it handles like a sports sedan. The ride is firm, communicative and solid. The steering is precise, and although the wheel is a bit too thick and the assist too heavy, the whole package reacts to inputs like a well set up car.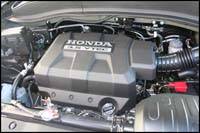 The 3.5L V6 sounds sweet.
Backing up this inappropriate handling prowess is a 3.5 litre, 24 valve V6 with 247 horsepower. It's adequately powerful and sounds especially sweet when pushed, summoning the family VTEC snarl from the engine bay. Power is delivered selectively to all four wheels by an intelligent 4x4 system which does the thinking for the driver. It's generally clever, but there is a locking mode selectable at the press of a button for more sure footed traction in the dirt.
Even with all it's hardware, the test vehicle returned mileage as low as 11.8 L / 100km during highway and city driving, with the 2000 kilometre test average at about 15 L / 100km.