Toyota's Rav4 invented the car-based SUV segment as a light, small and nimble little machine with front or four wheel drive and a fuel efficient engine. Sounds like it began life a great buggy for most jobs- as long as they weren't too big and they didn't require a whole lot of power.
By the wonders of modern engineering, the Rav4 recently became bigger and a lot more powerful. The size category it now resides in is heating up- as it generally offers a win-win situation to those who want a capable machine that isn't too thirsty. It's just right for an active family- easy to get into and out of, and easy on the wallet.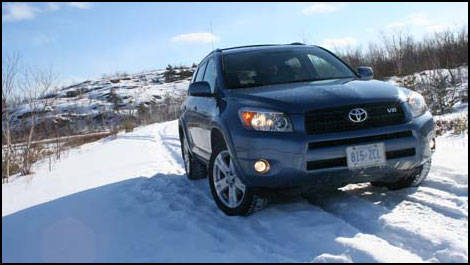 Just the right size.
Styling- a bit of all the right stuff
Friendly and gentle looking, the Rav4 has wide doors and large wheels suggesting capacity and capability. The covered tailgate-mounted spare tire hints at some off-road prowess, and it's flanked by a sharp looking set of LED taillights which are visible from a great distance at night. It's mildly aggressive looking with enough tasteful truck style to do the trick.
A big friendly interior
For a machine originally labeled as a compact, it's really quite large inside as every bit of space has been squeezed out of the interior. The door panels are thin, as is the dashboard, and the controls manage to stay in reach without invading your space. There's headroom-a-plenty, and even my very largest friend was pleasantly surprised to find more than enough room in the back seat. (These, by the way, fold out of the way for extra storage as needed, and there is a clever organizer in the rear for smaller goods.)
Visibility is notable- it's easy to see out of the Rav4 in every direction, and a slight glance over the left shoulder allows drivers to see all the way to the rear corner of the machine. This makes parking and navigating tight spaces a cinch.
Roomy and spacious it may be, but it's entirely constructed from crispy plastic panels. Though they're nicely assembled, it takes away from an otherwise lovely interior. Given the test-vehicles $33,590 sticker, I was expecting just a little more.
There is plenty of storage everywhere though- and an obvious quality feel to most parts.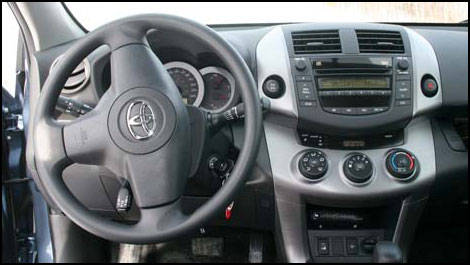 The nicely assembled interior is spoiled by the hardness of the plastics.