In the shadow of its twin
The Chevy Silverado won "Truck of the Year" awards both in Canada and North America. Yet, GMC offers about the same exact product. Why does the former get all the spotlight while the other stays in the shadow?
The Sierra boasts all the same qualities as the Silverado and very little flaws. So, if you live closer to a GMC dealer, it's the right spot to find the right pickup.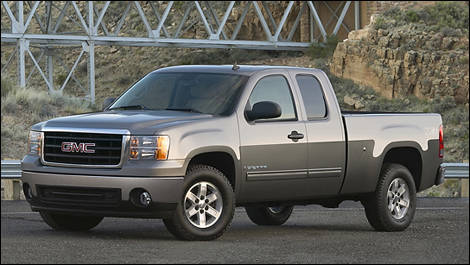 Few design cues set the Sierra apart from the Silverado.


It's big!
Compared to other full-size pickup trucks, the Sierra has no complex whatsoever. Its massive nose might not be as intimidating as the Ford Super Duty's, but this GMC sure has a whole lot of presence. Most buyers in this market segment look for a masculine look (or is it a
macho
look?) and the Sierra fares pretty well in this regard.
With the Sierra 1500 Extended Cab, three different box lengths are available, while the competition usually offers only two. There are also three possibilities at Ford, but the number of trim levels is very limited. That being said, if you plan on carrying an ATV, make sure your measures are correct because larger versatile models require the long cargo box (8'0'').
Larger or largest?
The Extended Cab does not offer much legroom, so if you buy a Sierra to haul your entire family or work crew, you'd be wiser to get the Crew Cab model. In fact, if your kids are young enough to be needing bolster seats, the four-door Sierra becomes a must; otherwise, access and room prove a bit problematic.
Then again, among all full-size pickup trucks with half-doors (Silverado/Sierra, F-150, Nissan Titan), GM products offer the most legroom in the back. If you select the Crew Cab Sierra, though, you'll have to make do with the short box (5'8'').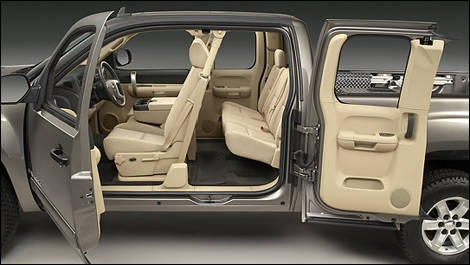 The GMC Sierra Crew Cab only comes with the 5'8" cargo box.