Grand Cherokee CRD: One smooth operator
The Daimler-Chrysler marriage may have ended and it may, ultimately, be considered unsuccessful, but there have been some positive outcomes. Witness the 2008 Jeep Grand Cherokee Limited and its optional common rail diesel engine, as sourced by Mercedes-Benz.
This engine, which has previously been used to motivate MB products such as the
ML Class SUV
and the
R Class
"super-minivan," is one of a whopping five available with the new Grand Cherokee - and it just may be the pick of the pack.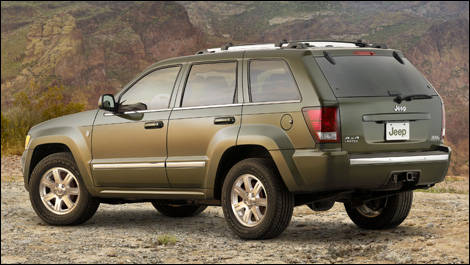 The Grand Cherokee CRD is much more fuel efficient than its gasoline powered counterparts.


Clean, efficient engine has star power
While the five-engine lineup for the Grand Cherokee includes a pair of Hemi units, outrageous power and dubious environmental-friendliness is, more and more, taking a back seat to useable power and pleasantly surprising fuel efficiency.
Thus, the 3.0-litre turbodiesel V6 - which produces 215 horsepower at 3800 rpm and a hefty 376 lb-ft of torque between 1600 and 2800 rpm - seems the perfect match for a vehicle that's designed to meet all sorts of climbing, towing and carrying challenges.
The torque, of course, proves valuable when it comes to accelerating away from traffic lights and merging onto highways. For the most part, the diesel, coupled with a 5-speed automatic transmission, responded very well.
However, starting from a dead stop, there was a moment's hesitation before the power kicked in. At times, this proved disconcerting... especially when turning left in front of oncoming traffic. This habit also reared its ugly head whenever left-foot braking was practiced; it was almost as if the Jeep had some sort of preventative mechanism to discourage touching the brake and accelerator at the same time. (This could be related to the Hill Start Assist option; see below.)
On the plus side, the
Grand Cherokee CRD
boasts great fuel efficiency for a substantial SUV: 12.0 L/100 km in the city and 9.0 L/100 km on the highway. This is close to 30% more efficient than a similarly powered gasoline engine.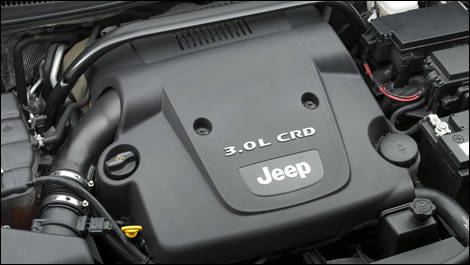 The common rail diesel engine is a direct outcome of the former DaimlerChrysler partnership.