You have to be a die-hard Porsche enthusiast to identify the many different
911 models
. The key is to spot details like wheel designs and spoilers. Of course, you can cheat and look at the badge affixed to the rear trunk.
The
Carrera
marks the entry point of the 911 lineup -- I won't use the term "base model" to describe any 911. After all, the 325-horsepower Carrera is a premium sports car through and through. It thrills the heck out of you all the way to your intended destination.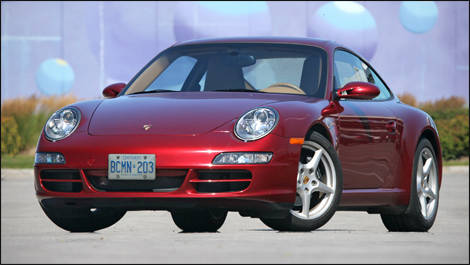 The Carrera marks the entry point of the 911 lineup.
Beautiful, day and night
My tester was draped in a gorgeous, ultra-classy Ruby Red Metallic dress. While on my watch, the car received plenty of praise because this fiery color enhances the finesse of the 911's silhouette. The lack of a visible rear spoiler adds to the sleek and clean design of the Carrera. Over the years, using subtle upgrades, Porsche designers have successfully refined the physical beauty of the original model.
Tricky access
The Sand Beige leather interior of my tester wonderfully matched the scarlet exterior. Plus, the quality fit and finish was evident. To enter the cockpit more easily, you need to turn yourself 90 degrees to the left, sit your butt on the seat and then pivot inward. That's the trick with every sports car; otherwise, you risk hitting your head on the roof frame or getting your feet tangled up in the lower door frame.
Once inside, every control is intuitively found and ergonomically laid out, including the steering wheel and shifter. Personally, I would tilt the front of the seat cushions further down, however.
Locking and unlocking the doors with the key requires a single impulse, unlike some competitors. On a couple of occasions, I was sure I had locked the car but, in reality, I had unlocked it instead.
As for storage, don't kid yourself: this is not a big American sedan. The compartments are small and will only accommodate basic stuff. Use the 125-liter trunk up front if you have a carry-on bag or small-size luggage and put everything else in the rear trunk. That said, a pair of medium-size suitcases will fit in the back once the upper rear seatbacks are folded.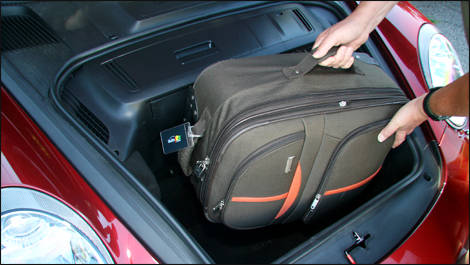 The storage compartments are small and will only accommodate basic stuff.