There's the
Honda Civic
, and for those who want to enjoy the essence and values of the popular Japanese compact in a more luxurious package, there's the Acura CSX.
Exclusive to Canada, this entry-level model from Honda's premium division is a nice example of the distinct character of our automotive market. Here, and especially in Quebec, buyers are more interested in smaller cars than their American neighbors.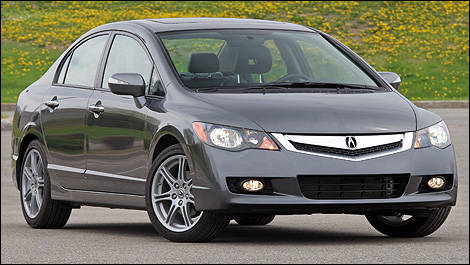 Make no mistake: the Acura CSX is a high-end Honda Civic!
The CSX is a clone of the Civic (you'd have to be blind not to realize it). Since 1996, when the Acura 1.6EL started the trend, workers at Honda's No.1 assembly plant in Alliston, Ontario, have been building Civics and little Acuras on the same assembly line, with the latter receiving juiced-up powerplants and additional features.
Three trim levels
The 2009 Acura CSX comes in three trim levels, all featuring a 2.0-litre, 4-cylinder engine. Most Civic sedans, meanwhile, make do with a 1.8L unit.
Both the base model and the Tech variant (as tested) produce 155 horsepower, making them a bit livelier than the 140-horsepower Civic EX-L. As for the CSX Type S, it shares its engine with the sporty Civic Si. This high-strung performer cranks out 197 horsepower, enough to turn this sleek compact sedan into a surprisingly-capable machine, one that can sprint to 100 km/h from a standstill in just 7 seconds.
That's great, but the CSX I put to the test was more, shall we say, pedestrian. Mated to a 5-speed automatic transmission, the fastest time it ever pulled off from 0 to 100 km/h was 9.23 seconds. An ordinary Civic DX with manual gearbox is just as fast yet sells for nearly half the price!
Apples with apples!
Of course, as the folks at Honda Canada were quick to remind me, we're not talking about the same cars, here. Fine. Let's compare apples with apples. If the CSX Type S is the premium equivalent of the Civic Si, then the CSX Tech is the same for the Civic EX-L. The former boasts an additional 200 cc's, 15 horsepower and 11 pounds-feet of torque. That's it.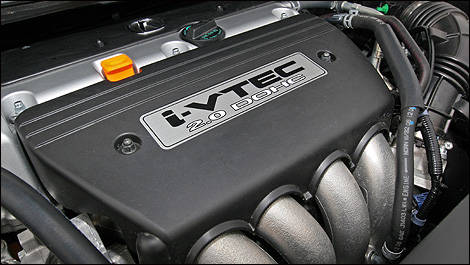 The 2.0-litre, 4-cylinder engine of the CSX Tech is slightly more powerful than the 1.8L unit of the Civic EX-L.