Despite years on sale, the Acura TL has only just this year become truly competitive in its marketplace. It was a worthy machine to be sure, but for most of its life it was available with one engine, one transmission and as a front-wheel drive.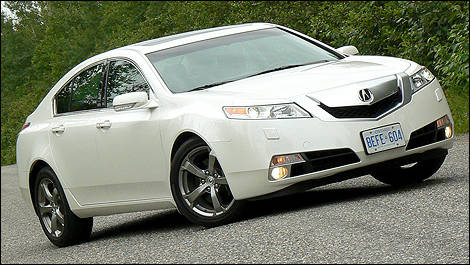 The tester wore a set of 18-inch wheels, quad-tip exhaust, fog lamps and a rear spoiler.
With peers offering numerous engines, gearbox and driveline options, the TL only satisfied a very narrow set of needs-- like a grocery store that only sells vegetables, for instance.
Finally, AWD and 300+ horsepower
Acura's finally found it fitting to step the TL up a few notches. It's now offered with trick 'Super Handling' All Wheel Drive (SH-AWD), providing worthy four-wheel drive firepower to compete with xDrive, 4-Matic and Quattro.
There's more firepower under the hood too-- as TL gets one of two VTEC-enhanced V6 engines. With 3.5 or 3.7 litres of displacement, they're good for 280 or 305 horsepower, respectively. In the interests of tire life, the larger power unit is only available connected to the SH-AWD system. The 3.5 litre engine drives the front wheels exclusively.
At writing in mid-summer of 2009, a five-speed automatic with paddle-shift was the sole gearbox. Engineers have whipped up a new six-speed manual transmission though-- and it'll wind up on the TL's option list later this year.
Looking….different
Despite the TL's lateness in breaking the 300 horsepower / AWD barrier, it's still top of the pack in a number of areas, including styling. You may very well hate the new chisel-beak grille and excessively sharp lines, but you've got to admit they're different, distinctive and brave. That's more than some of the competition can say.
The tester wore a set of 18-inch wheels, quad-tip exhaust, fog lamps and a rear spoiler to help further set the TL off as a sporty, futuristic and daring sedan.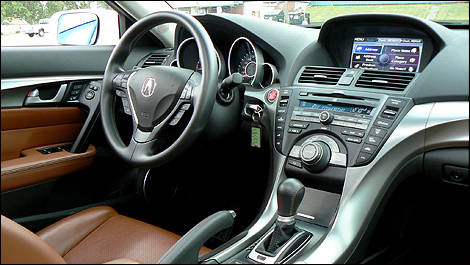 Build quality and materials selection are very good, and no issues were noted with entry, exit or visibility.