Driving the Buick Enclave is not like riding first class, at least in CX trim. However, it's not like coach class, either. So think of it as the business class.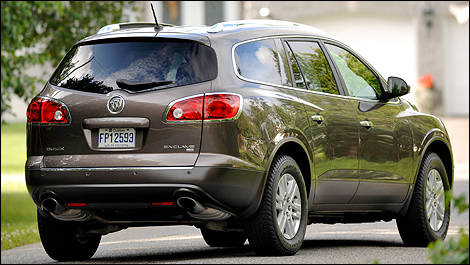 The Enclave is one of many crossovers designed to replace minivans and probably SUVs over the medium term.
The Enclave is a crossover utility vehicle that transpires quality, comfort and a knack for luxury. Aesthetically speaking, it's a very attractive machine with a keen sense of style.
From the outside, even the "base" CX model features multiple premium touches. In fact, except for the wheels, it's almost identical to the CXL model. You'll find all of Buick's signature cues like the triple air vents on each side (indicating the number of cylinders), the waterfall grille up front and the chrome-ringed taillights in the back.
The wave pattern on the body sides, a result of the bulging wheel arches, significantly reduces the overall impression of size. On the whole, the Enclave is full of class and presence yet with a subtle, understated approach -- exactly what you expect from a Buick.
Please take a seat!
Comfortable long trips await passengers despite the absence of leather seats in CX trim. The 2009 Buick Enclave is a master in the art of long-distance travel -- I mean like 9 or 10 hours straight. Wherever you sit, you'll enjoy supreme levels of comfort throughout the ride.
Occupants are surrounded by woodgrain accents and soft-touch plastics, almost in baroque fashion but without all the excess. Anyone can revel in the ultra-generous room and airiness of these quarters.
No coach class
Seldom do automakers offer third-row seating that's spacious enough to accommodate adults, let alone for a few hours. Buick did it with the Enclave and, on top of that, access proves easy thanks to the second-row Smart Slide reclining fore/aft captain's chairs.
If you fold the third-row seats, cargo room becomes impressive. Now, imagine when you also fold the middle seats; you could probably fit a sofa in there!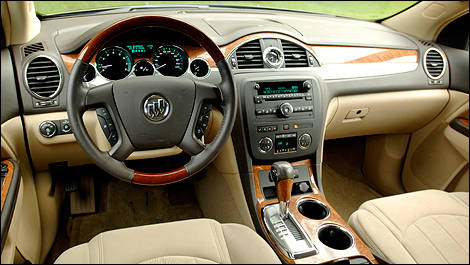 Comfortable long trips await passengers despite the absence of leather seats in CX trim.