It's refreshing to drive a Pontiac sedan that's pushed rather than pulled. There was no way that GM could get serious about offering a true performance Sedan in North America without reverting to a rear-wheel-drive (RWD) platform. Fortunately, GM's Australian Holden Division had the answer.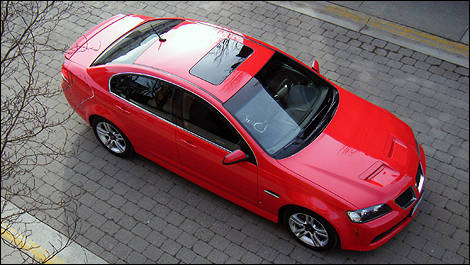 The G8 is a spacious 4-door V6-powered performance sedan.
Why re-invent the RWD wheel?
Wisely, GM looked to its Holden Division of Australia to source a superior RWD platform rather than re-invent such architecture locally. The platform in question underpinned the Holden Commodore down-under before being co-opted for use in North America.
Actually rather than scoop only the chassis, Pontiac scooped pretty much the entire Commodore, altered its appearance slightly and released it on the streets of North America as the
G8
. It's still built in Melbourne, Australia though along with its V6 and V8 powerplants.
Modern lines exhibit aggression
If not casting eyes upon the G8's purely-Pontiac nose, it's unlikely that 'Pontiac' would jump to mind when espying the G8 from any other angle. It's somewhat of an amorphous styling exercise yet quite daring in its execution. I like the looks of this product, which by today's standard is considered fairly large.
The dramatic flare of the front fenders really emphasizes the car's performance status; unfortunately, the fake hood scoops undermine some of that credibility. Overall though the car is nicely proportioned and sufficiently eye-catching to net two thumbs up.
Sporty interior is also spacious
The cabin of the G8 is a rather attractive mix of good and not so good. The "not so good" includes rotary knobs in use to recline the front seats. These are "old school" and awkward to use. On the plus side, the leather perches in my tester were tremendously satisfying once adjusted to fit my dimensions.
Another incongruity is the use of a large screen to display HVAC and audio information but not
navigation
, which isn't available on the G8. Assigning basic audio functions such as bass and treble to the LCD screen made adjusting these settings annoying due to the multiple steps involved in the interface.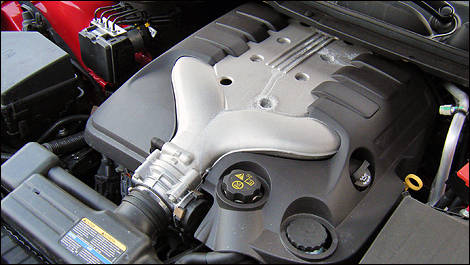 The base G8 engine is an Australian-made 3.6-litre DOHC V6 capable of dispensing 256 horsepower.