The
Corolla
has been on the Canadian market for over 30 years. I've owned two: the first, in 1970, was small and tireless, and the second, in 1981, was a war horse of a station wagon that I drove for over seven years. If Toyota were to reintroduce its station wagon model, I wouldn't hesitate getting another. Toyota's challenge consists in upholding its compact's reputation for solidity and reliability. Over the years, designers have nevertheless struggled in designing an attractive car. This time around, they paid more attention to the lines of the new Corolla, which is nicer looking, with a more cheerful, livelier design that is even a touch sporty (
XRS version
), while preserving the classic Corolla features that appeal to most of its owners.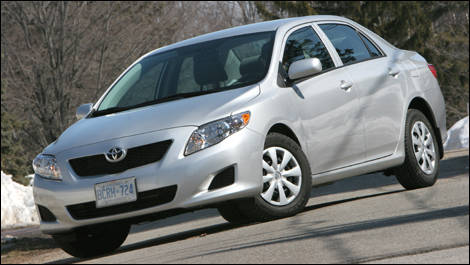 The new Corolla is nicer looking, with a more cheerful, and is even a touch sporty (XRS version).
Well equipped CE
I test drove the
CE
base model that was equipped with a manual transmission and a series of convenience options, such as air conditioning with pollen filter, keyless entry, colour keyed door handles and a tire pressure monitoring system. Its suggested retail price is $17,565, including transport and preparation charges. By the end of my test drive, I found that the CE has a lot to offer for its price. Although power windows and cruise control are an additional $825, such bells and whistles aren't necessities.
Complete enough finish
The trunk is a decent size and is just low enough to make cargo loading easier. The backrests can be folded down to make more room for cargo.
Getting into the front seats is easy enough, but some flexibility is required to squeeze into the back seats. In terms of aesthetics, the Corolla's interior won't win any awards. The sober grey tone of the comfortable, soft seats is anything but fanciful. The shades of the plastic used for the dashboard and doors did not match, which was surprising, considering that Toyota is not exactly in the habit of mismatching the colours of its materials. Front passengers have several storage compartments available to them, including two in the dash, and rear passengers enjoy a reasonable amount of legroom.
The new Corolla's soundproofing is one of its best features. Even on the highway, you can have a conversation without having to raise your voice. Another great feature is the comfort the Corolla affords its passengers.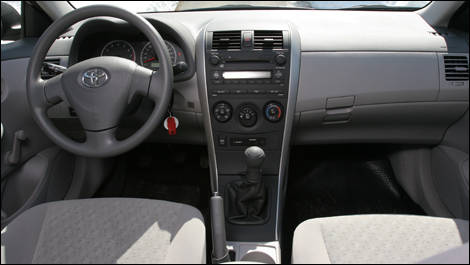 The new Corolla's soundproofing is one of its best features.