This is a Fusion? You could have fooled me; it's just that good.
A new Fusion
A bit bland but otherwise the first generation of Ford's compact Fusion was attractive, nicely proportioned and generally inoffensive from all angles inside and out. For 2010 those mild attributes have been kicked up a notch and a half, and even more when it's the Fusion Sport we're talking about.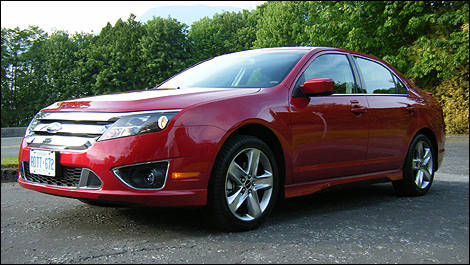 The 2010 Ford Fusion Sport is a value leader in the mid-size performance sedan segment.
Still easily identifiable as a Fusion, this second generation displays more sculpting and greater aggression in its revised nose, hood and tail. The new look adds spice to the car's previous soft image while maintaining its broad appeal.
Complementing the new exterior is a dramatically improved cabin, which now utilizes friendlier materials to touch and behold along with a redesigned instrument panel and re-contoured front seats. The upscale environs pull the Fusion out of the low rent district, firmly entrenching it in middle-class.
2010 adds Sport and AWD
I've never driven a Fusion as infinitely satisfying as the subject of this road test. In terms of spirited motoring, the front-wheel drive 4-cylinder Fusion inspired me about as much as a cold cup of de-caff. The V6 version warmed the java to tepid at best.
The 2010 Fusion Sport, with its enlarged V6-engine all-wheel-drive traction, 18-inch wheels and upgraded underpinnings, served me a steaming cup of brew that delivered an eye-opening kick along with a refined exhaust note that begged to be played over and over.
Under the hood
No previous Fusion has enjoyed the fortitude of 263 horsepower @ 6,250 rpm connected to all four wheels by a six-speed autobox. The 3.5-litre V6 powering the Sport also produces 249 pound-feet of torque @ 4,500 rpm.
The punch delivered by the aforementioned credentials moves the Fusion with gusto more rightly attributed to an all-wheel-drive sedan out of, say, Germany. The AWD configuration allows the Fusion Sport to bite securely into the pavement, eliminating wasteful wheel spin and unsettling FWD handling dynamics.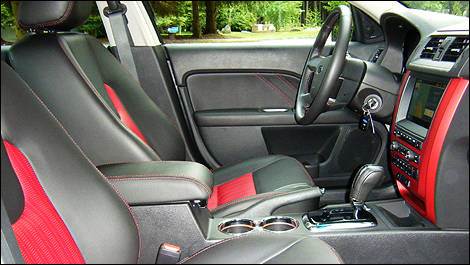 Complementing the new exterior is a dramatically improved cabin.