What do the all-new
Lotus Evora
and
Toyota RAV4
have in common? The engine, that's what! In the case of the former, the 3.5-litre V6 sits right behind the passenger quarters and elevates the Great Lotus to the ranks of the
Porsche Cayman
in terms of muscle and refinement.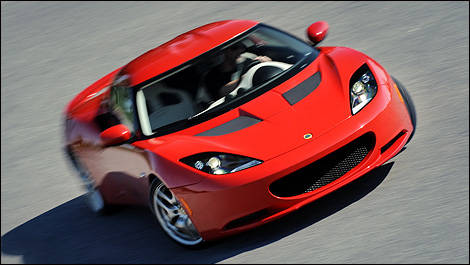 The 2010 Lotus Evora is a true GT car in the mold of its direct rival, the Porsche Cayman. (Photo: Matthieu Lambert/Auto123.com)
The addition of this model to the British brand's lineup is major news. After all, the last time Lotus introduced a new car was way back in 1995, when Italy's Romano Artioli, head of Bugatti, operated under Lotus wings. The Elise, a cute and nimble little roadster, was actually named after his daughter Elisa… and in accordance with the company's tradition of selling cars that start with an "E."
Over the years, and under new stewardship (Malaysian automaker Proton purchased Lotus in 1996), the Elise gave birth to a plethora of variants, both for the road and the track, as well as two very interesting evolutions: the Exige and Europa S two-seaters.

GT character
The 2010 Lotus Evora is light-years ahead of the Elise. That was the goal, mind you — the folks in Hethel, England, are striving to diversify and expand their portfolio in order to widen the customer base.
Consequently, they're now banking on comfort and luxury to attract buyers. The interior of the
Evora
can comfortably sit two large adults for hours, which contrasts heavily with the cramped Elise and those shells called sports seats. You don't have to be a contortionist to take place in the Evora… well, maybe just a bit. Still, once you've found your way inside, you can feel the seats wrapping your entire body like a wetsuit. I love it!
By the way, the Evora is Lotus' first 2+2 car since the angular Elite and Excel of the 1970s and 1980s. The small bench seat in the back is available at a ridiculously-low price, so I'm willing to bet that most customers will take it.
Of course, Lotus does not want to fool anybody and acknowledges that this bench is designed for children. No fully-grown human being would tolerate that much discomfort. The Isofix system for child seat explicitly suggests the type of occupant that should be sitting there, anyway.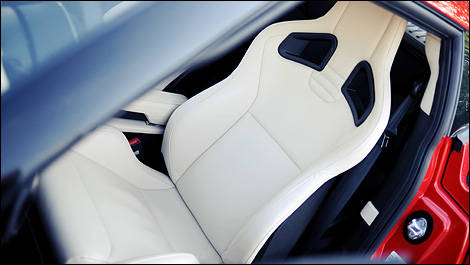 Inside, the highly-supportive buckets can comfortably sit two large adults. (Photo: Matthieu Lambert/Auto123.com)