After a tenth of a second standing in front of the new
Mazda 3
, you'll notice that it looks very happy about something. Unlike that creepy person on the subway, the 3 actually has a valid reason to smile: the original car was a smash-hit, and Mazda's just updated the new one to do it all over again.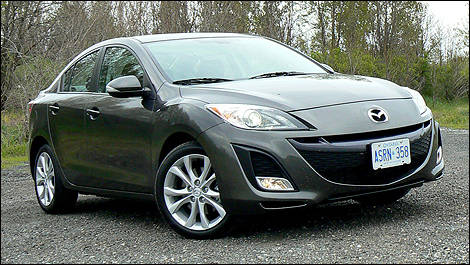 The up-level GT tester was priced at $24,195, including the automatic gearbox.
Holy beaming bumpers, Batman!
Styling has become even sportier and more up-front than the last generation car, with dual exhaust peeking out from the rear bumper, exaggerated fenders, a wide stance, and plenty of complicated sculpting to keep the eyes busy. The tester rode large alloy wheels, and the front is capped by a massive, beaming bumper with oversized venting and an enormous grin.
Some love Mazda's new mile-wide smile, but by my personal count, about half of first-generation Mazda 3 owners prefer the look of the former to the latter. Some agreed that it 'grew' on them, though.
A modern, upbeat and techy cabin
Like its body, 3's interior is unique, distinctive and very modern looking. High-tech and sophisticated are good descriptors, and the black panelling was broken up with flashes of aluminum trim and contrasting colors.
Add in a display screens, gorgeous instruments and a few strategically-placed LED mood-lights, and you'll probably find this one of the market's coolest-looking cabins. This holds especially true after dark-- when everything lights up gorgeously. Hope you like orange illumination, though.
Storage, gadgets, comfort
Looks aside, the cockpit also feels accommodating and well put together. The steering wheel has no less than 17 buttons fixed to it, putting common controls at fingertip's reach. Storage is adequate for the items you'll need at hand, seats are comfy, visibility is pretty good, and the stereo thumps on par with an aftermarket setup.
The up-level GT tester was priced at $24,195, including the automatic gearbox.
Buyers
can save $1,200 by shifting themselves, and another $500 through Mazda's grad rebate program.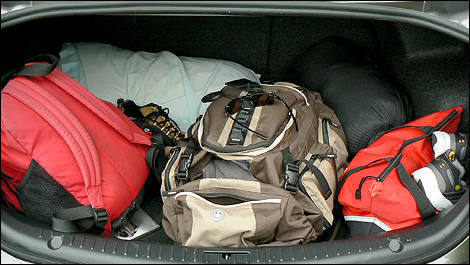 The mechanism of the trunk is annoying and it often takes a good slam to close properly.