Smile! The new 2010 Mazda3 Sport GT says hello! This compact yet dynamic performer now hits the road with a big fat grin. "The increasingly-ferocious competition pushes automakers to develop uniquely-styled visages in order to help their vehicles stand out from the rest", says Kunihiko Kurisu, Chief Designer of the new Mazda3.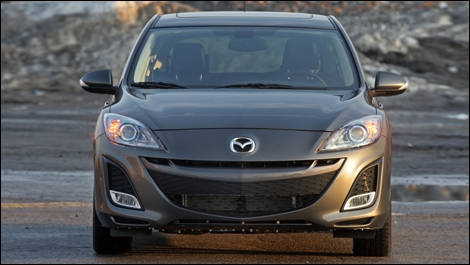 The smiley grille is the new face of the Mazda3!
He's serious. Just look at the
Nissan cube
's bulldog nose or Chevrolet's Transformers-derived
Camaro
. And what about Kia, which is literally selling its
Soul
?
Up until recently, manufacturers were all too happy to exploit the retro theme. Now, here they are, undertaking a revolution in automotive anthropomorphism!
This is no joke, folks…
Major cosmetic surgery
Despite such an extensive makeover, the designers of the Mazda3 were able to keep its popular silhouette unchanged. You can easily recognize the lines of the old model, which made quite a splash when it replaced the venerable Protegé in 2003. This racy, almost European look continues to set the beloved Mazda apart from its top rivals, particularly the Honda Civic and
Toyota Corolla
.
Of course, it all starts up front with that broad new smile. Sure, the eccentric styling took many fans by surprise when the first few samples of this new generation rolled off the assembly lines, but they've since gotten used to it and, today, they smile back anytime they come across one.
The marketing gurus at Mazda claim that the new design language of the 3 will eventually be applied to the entire product lineup. The new MX-5 and RX-8 have already received the treatment, although the results are not quite as smoothly executed. After all, no design truly is universal.
Familiar powertrains
The Mazda3 family still comes in two specific body styles: a four-door sedan for conservative buyers and a five-door hatchback called Sport that uses a sleek profile to win over young customers.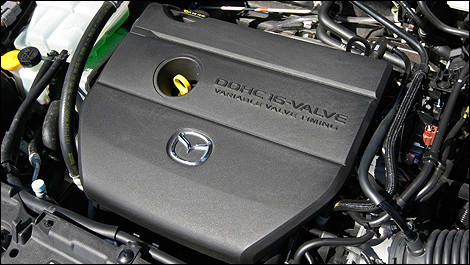 The new 2.5-litre engine produces more torque and power than its predecessor.