It's compact in size but not in attitude. Acura's RDX enters 2011 largely
unchanged from last year
when it underwent significant modification.
Blustery turbocharged engine pulls with zeal
As with all Acura stock, the RDX is performance-oriented, meaning that in addition to traits typical to all-wheel-drive (AWD) crossovers, the RDX is intended to evoke passion and exhilaration in those behind its leather-clad wheel.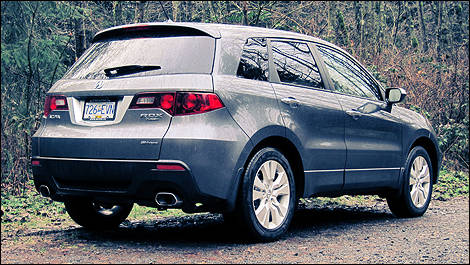 Acura's RDX enters 2011 largely unchanged from last year when it underwent significant modification. (Photo: Rob Rothwell/Auto123.com)
At the heart of the matter is a feisty, if not somewhat blustery, turbocharged 4-cylinder engine. In addition to turbocharging, the 2.3-litre DOHC mill relies upon Acura's i-VTEC variable valve-timing technology to produce 240 horsepower @ 6,000 rpm and 260 pound-feet of torque @ 4,500 rpm.
Those are sizeable performance figures for a four-banger. Before being dispersed to all four wheels by Acura's Super-Handling all-wheel-drive (SH-AWD) setup, the generous flow of power is managed by a 5-speed automatic transmission featuring steering wheel mounted shift-paddles and Grade Logic Control.
Bluster and fluster
The gutsy mill at work beneath the RDX hood serves up plenty of raw, heartfelt thrust, in fact, sometimes too much. There are qualities about this engine that I truly admire, such as its unbridled willingness to work hard and a keenness to greet its redline.
Shortly after departing its state of idle, the engine pulls with impressive might, exhibiting no flat spots throughout its broad rev band. A couple of "not so desirable" traits include throttle mapping that's less linear than it should be and a variety of "whooshes" and other sounds that seem out of place in an upscale ride such as the RDX.
The lack of throttle linearity is attributable to a tendency for the turbocharger to throw more coal into the firebox than expected. This results in a surge of power that's often greater than desired as one pulls calmly away from a stoplight. Obviously, time behind the wheel will allow driving habits to adapt to the delivery of power; I just think it should be the other way around.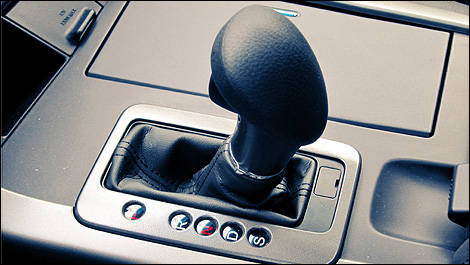 The generous flow of power is managed by a 5-speed automatic transmission featuring steering wheel mounted shift-paddles and Grade Logic Control. (Photo: Rob Rothwell/Auto123.com)