There are worse ways to spend a Saturday evening. It's sunny, about 25 degrees Celsius in the heart of Montreal, and I'm about to be handed the key to a spanking-new Aston Martin droptop. Yes, life can be so cruel sometimes.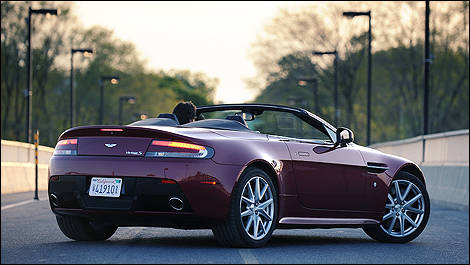 The car obviously draws a LOT of attention on crowded city streets. (Photo: Matthieu Lambert/Auto123.com)
A night on the town is just part of the exotic-car ownership experience. One could purchase a car like this hand-built
Vantage S
to draw attention to themselves more than anything else; other criteria like exclusivity, explosive performance and opulent luxury are relegated to the back burner if all you want is for passers-by to notice you. In this car, they will notice you.
Me? Screw the attention, I'll take it just for the engine. Every time I crack open the throttle on this megabucks beast, shivers race down my spine, goosebumps on my arms pierce through my shirt and I can't stop giggling. Driving through a tunnel with the top down increases the intoxication.
Under the hood of the Vantage S thumps a 32-valve, 4.7-litre V8 that ragingly roars more or less above 4,000 rpm, or pretty much all the time when the Sport mode is activated. It develops 430 horsepower (at 7,300 revs thank you) and 361 pound-feet of torque of which three-quarters is available from 1,500 rpm, resulting in wild but controlled launches. Figure a 0-100 km/h acceleration time of about 4.7 seconds.
While cruising topless (the car, not me) downtown, you'll get immediate feedback from pedestrians who are mesmerized by the car's sheer beauty and presence. Pointing fingers, yells, whistling and swearing, we heard them all, especially when you acknowledge their pleas for an aural taste of the mellifluous V8. Now, we're not show-offs, but we can't help sharing the wealth a little bit.
Our brief drive is providing us with few opportunities to test the car's handling, but highway entrances and exits presented some 270-degree ramps to play with; as it should, the Vantage S clings to the tarmac like paparazzi to Lindsay Lohan.
The car's steering rack offers the right amount of power assist at both parallel-parking and open-road speeds. As for the brakes, the trash-can-cover-sized discs get squeezed by six-piston callipers up front and four-piston pinchers out back; mashing the stop pedal is as effective as hitting a brick wall.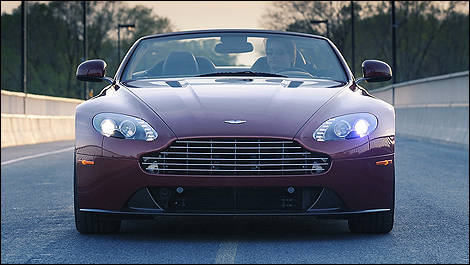 The Vantage S gets a nasty 430-horsepower, 4.7-litre V8. (Photo: Matthieu Lambert/Auto123.com)