Cadillac is a storied brand that shaped a lot of people's automotive memories. Once the ultimate embodiment of personal success, it went through a dark period before rising back and (almost) regaining its powerful status of yore.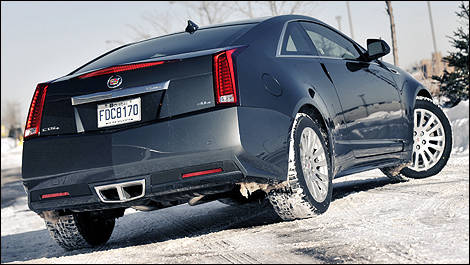 At $47,625, this car offers impressive bang for your buck. (Photo: Matthieu Lambert/Auto123.com)
Much of the credit goes to the latest generation of the Cadillac CTS, whose lineup now includes a striking two-door coupe.
Today's Caddy has nothing to do with your father's or grandfather's. No longer built like a land yacht, its interpretation of luxury incorporates what no ancestor could ever offer – genuine driving excitement.
Love it or hate it
From a design standpoint, the new models from Cadillac are best described as polarizing. Here, the aggressively-chiseled silhouette with prominent lines and sharp angles, inspired from classic stealth fighters, either attracts onlookers like a magnet or sends them fleeing.
I must say I have a thing for this variety of styling. CTS designers really thought it through and the result is quite distinctive and exclusive, particularly the coupe variant.
When the concept was introduced a couple of years ago, I recall both the media and public getting all excited by its unique shape. The nose obviously mimics the sedan, but the sculpted tail rises way up in the air. In between is a dramatically-defined roofline that gives the
CTS Coupe
the look of a rocket that will tear up the space-time continuum.
Actually, when I think about it, the thing that makes the production model so attractive is the close proximity with the concept car.
Fantastic cabin
The interior is equally gorgeous. Rich materials, high build quality, a simple and user-friendly dashboard, and a comprehensive array of premium amenities make this CTS wonderful to live with.
Having great seats is a must in my book. Well, I'm happy to report that the front buckets prove supportive in corners yet comfortable over long distances. They can be easily adjusted, helping you find an excellent driving position in no time.
Every other passenger enjoys ample room, even for the knees. However, in typical coupe fashion, rear-seat access is relatively challenging.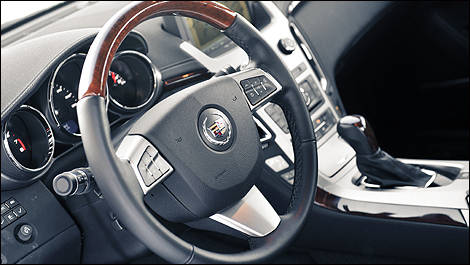 The interior is equally gorgeous. Rich materials, high build quality, a simple and user-friendly dashboard. (Photo: Matthieu Lambert/Auto123.com)