The mere sight of a
Camaro
has an unmistakable effect on anyone, and I really mean anyone. Wherever it goes, the car either makes people dream and drool or scream and sigh. And that's precisely the point. For buyers, it's the perfect mechanical extension of their extrovert personality, especially those who prefer to show steel rather than skin.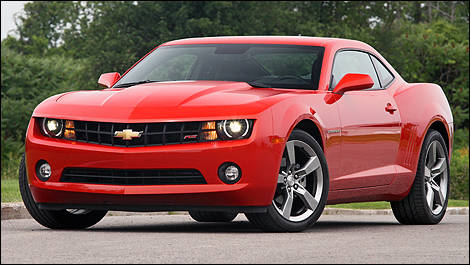 The Camaro 1LT RS is an affordable version of Chevrolet's iconic sports coupe. (Photo: Luc Gagné/Auto123.com)
Much like its two arch-nemeses, the Ford Mustang and Dodge Challenger, the boastful and unnecessarily big Chevrolet Camaro combines retro styling with a few outrageous design cues, wide tracks and a high beltline. On the road, it also allows drivers to throw the politically correct stuff out the window from time to time.
Let's play Scrabble!
In order to decipher the 2011 Camaro lineup, one has to learn how to play Scrabble with consonants only, more specifically L, R, S and T. The various combinations serve to designate all trim levels.
For starters, ''LS'' refers to the base Camaro. It may be the least expensive model, but you wouldn't know it by looking at the exterior. Then comes ''LT'' and its two sub-models, 1LT and
2LT
(that sounds sexy, doesn't it?). As you might have guessed, the latter is more generously equipped than the former. By the way, both the LS and LT are powered by a V6.
''SS'' adds to the excitement (no, the letters don't stand for ''social security'' but rather ''super sport'') with a burly V8 engine which elevates the Camaro into 400-horsepower heaven. Once again, buyers must choose between two sub-models, namely 1SS and
2SS
.
Confused yet? Wait, it gets more complicated. Chevrolet also offers the RS package, which includes High-Intensity Discharge (HID) headlights, 20-inch alloy wheels wrapped in Pirelli P-Zero tires, a subtle rear spoiler and unique taillights.
Now that you know all about the Camaro version of Scrabble, you'll quickly figure out that the 1LT RS model – like the one I tested – mainly tries to make drivers look good. With superb Inferno Orange Metallic paint, nobody could ever guess that a humble V6 lies under the hood!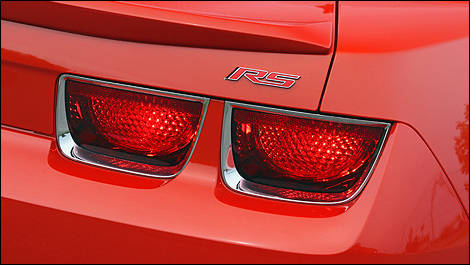 (Photo: Luc Gagné/Auto123.com)