The current F-150 in showrooms isn't entirely new at a glance, though Ford has recently put an exciting new engine onto the popular truck's options list. Answering the call of shoppers after high-efficiency performance, the rampaging automaker has now made their F-150 available with a sophisticated new EcoBoost V6 engine as an alternative to a thirstier V8.
Truck fans everywhere want the down-low on the new
F-150 EcoBoost
, so your writer took questions from Twitter, as well as in parking lots and at traffic lights, and answered the most common for this story.
Read on.
Question 1: What is EcoBoost?
Answer:
Ecoboost is a new line of high-efficiency Ford engines that use turbocharging and direct-injection technology to deliver the performance of a bigger engine with the
fuel consumption
of a smaller one.
Case in point?
The F-150 EcoBoost uses a 3.5L, twin-turbo V6 in place of a larger V8 to deliver heaps of on-demand power and fantastic mileage.
By using a smaller-displacement turbocharged engine in place of a bigger-displacement unit, drivers effectively pay the fuel penalty only on the power they need, rather than feeding a bigger, thirstier engine all the time.
The idea is that during gentle driving and cruising, with the turbochargers at idle, F-150's engine drinks gas at the rate of an efficient V6 - though the turbochargers keep a whack of extra power and torque on perpetual standby when needed.
Question 2: Is it powerful?
Answer:
Yes. The boosted six puts out 365 horsepower and 420 pound-feet of torque. That's more than the F-150's new 5.0L V8, and peak torque is available from just 2,500 rpm, or about 2,000 revs earlier than a comparable V8. That translates to fantastic throttle response, as well as a machine that'll virtually tie an F-150 with Ford's new 6.2L V8 in a drag race.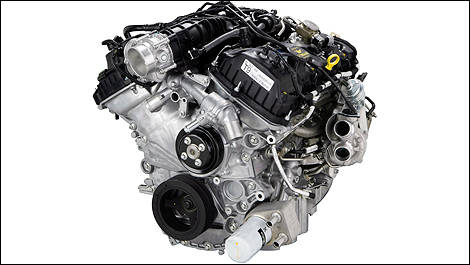 The boosted six puts out 365 horsepower and 420 pound-feet of torque. (Photo: Ford)