I assumed it had a V8; I was wrong. It felt like it had a V8; it didn't. I was actually surprised to see the "
EcoBoost
" badge on the side of my tester after my initial drive. A turbocharged V6 engine had mobilized the big truck with tremendous confidence. Depending on trim level, the EcoBoost is one of four new F-150 engines available for 2011.
Why feed eight hungry cylinders when six will do?
I'm not exaggerating when I say that I was surprised to find six cylinders beneath the giant bonnet of my F-150 Platinum SuperCrew 4x4 tester rather than the expected eight. Sure, I knew all about Ford's outstanding EcoBoost 3.5-litre V6; I even knew that it was powering many new F-150s. Still, the thought that I'd be delivered an EcoBoost-powered F-150 never crossed my mind.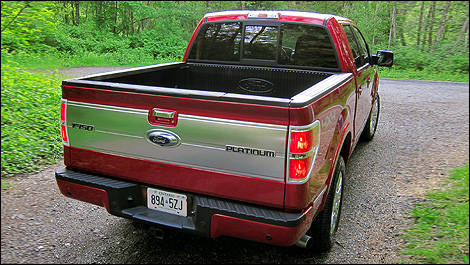 Depending on trim level, the EcoBoost is one of four new F-150 engines available for 2011. (Photo: Rob Rothwell/Auto123.com)
As is often the case with the Y-chromosome curse, I bounded ahead without reading the associated literature to determine the specs of the truck I was about to review, but that turned out to be a benefit from a testing perspective, as it prevented preconceived expectations.
Given the response beneath my right foot, I incorrectly assumed that V8 iron was doing the propelling; the performance was that good thanks in part to 420 pound-feet of torque at just 2,500 rpm. The secret behind Ford's EcoBoost technology, which delivers V8 oomph with alleged V6 economy, is twin-turbocharging and high-pressure direct fuel injection.
Can it really challenge V8 mettle?
V6 engines have been popular in mid-size sedans for a few decades now. They often felt the sting of criticism as underpowered replacements for V8 powerplants, and justifiably so. There are few V6 engines that impress me; however, that was pre-EcoBoost.
Ford has produced a sophisticated V6 engine that produces 365 horsepower @ 5,000 rpm to accompany its massive torque output. Linked to a 6-speed automatic transmission, the little mill with a big attitude is capable of launching the F-150 SuperCrew with startling authority.
As the mighty tuck pushes forth with unrelenting vigor, its EcoBoost mill produces a mannered growl along with the typical turbocharger whine. It's all very nice, but not quite the rumble and roar of a V8 engine.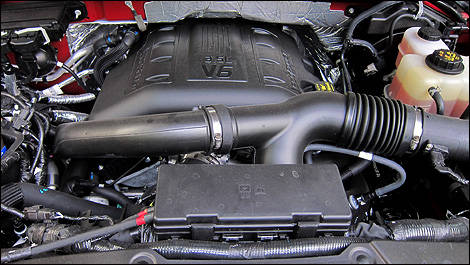 Ford has produced a sophisticated V6 engine that produces 365 horsepower @ 5,000 rpm to accompany its massive torque output. (Photo: Rob Rothwell/Auto123.com)