The Rogue is Nissan's compact crossover SUV that can be fitted with front-wheel-drive (FWD) or all-wheel-drive (AWD). It's also one of the more stylish vehicles occupying this segment, not to mention one of the largest compacts.
Visual distinction partners with simplicity
The Rogue is reasonably distinct from its competition thanks to styling that exhibits Murano-inspired flair. The mid-size Murano pretty much set crossover styling on its head when Nissan introduced it. Although not as dramatic as the
Murano
, the smaller Rogue manages to capture some of its big brother's good looks.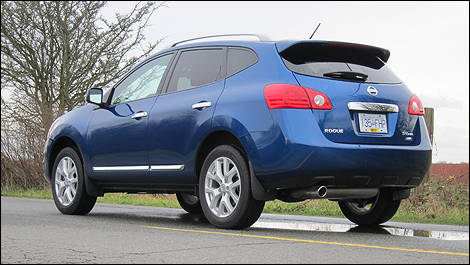 The Rogue is one of the more stylish vehicles occupying this segment, not to mention one of the largest compacts. (Photo: Rob Rothwell/Auto123.com)
It's not so much the Rogue's sheet metal that captures my eye as it is the vehicle's interior layout and design simplicity that I admire. The large primary gauges are clear and instantly interpreted while controls such as the HVAC dials are as straightforward to operate as household light switches.
And while the instrument panel is an icon of functionality, it's also attractively designed and easily absorbed. In fact, the entire cabin is well thought-out and pleasantly equipped. Assembly standards appear high, yet some of the plastics and tactile surfaces feel a wee on the "low rent" side.
This, however, is fairly typical of segment and not something to bemoan—I'll leave that to the limited opportunity for driver-input into the CVT's operation.
CVT maximizes I-4's potential
Generally speaking, a continuously variable transmission (CVT) maximizes the efficiency of the engine it's mated to, and I have no doubt that the Rogue's unit does just that. The engine referred to in this case is a 2.5-litre DOHC 16-valve 4-cylinder mill, capable of tendering 170 horsepower @ 6,000 rpm and 175 pound-feet of torque @ 4,400 rpm. Those aren't bad ratings by any stretch.
The engine seems quite content to rev freely when called upon or simply loaf along in the sub-2,000 rpm basement to maximize
fuel economy
when the demand for power has subsided. As far as CVTs go, Nissan's version does its work intelligently, although I suspect it prioritizes fuel economy over performance, and that's probably wise given the recent spike at the pumps.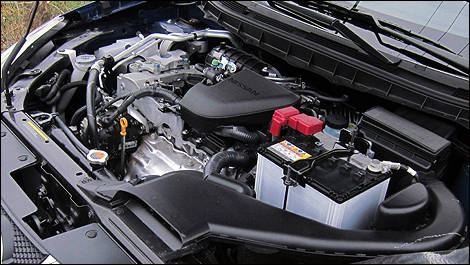 The engine is a 2.5-litre DOHC 16-valve 4-cylinder mill, capable of tendering 170 horsepower @ 6,000 rpm and 175 pound-feet of torque @ 4,400 rpm. (Photo: Rob Rothwell/Auto123.com)