I'm not one to judge a book by its cover, especially when it comes to automobiles. Beauty is in the eye of the beholder; however, after spending a week aboard the
2012 Acura ZDX
, I still can't figure out the target audience for this thingamabob.
It's not really an SUV, and it's definitely not a car. We'll call it a crossover vehicle because the term is so loose. And although the brand says the ZDX will please middle-aged couples with an active lifestyle whose children have moved out, who are looking for something sporty with the convenience of a back seat and four doors, I'm still scratching my head to the point of going bald.
For $54,990, a luxury vehicle buyer normally expects to be noticed, admired and even envied by both neighbours and strangers who cross their path. This didn't happen with the Acura ZDX.
Yet, it's got some strong qualities and is every bit an Acura as the rest of the product line-up. Let's try digging deeper than the skin.
Growling V6
The 2012 Acura ZDX shares its mechanicals with the
2012 Acura MDX
, which means it gets a 3.7L V6 that develops 300 hp and 270 lb-ft of torque, as well as a 6-speed automatic with paddle shifters. Flat out, the ZDX reaches 100 km/h in 6.6 seconds and takes care of a quarter-mile in 14.7 seconds at 153 km/h.
So it's quick, yet you can feel every one of the 4,444 lbs that constitute the 2012 Acura ZDX Tech's curb weight, or only 130 some-odd pounds less than the seven-passenger MDX. The engine also feels livelier when you nudge the shift lever into the "S" position. As a somewhat sportier alternative to the run-of-the-mill SUV or crossover, the ZDX doesn't quite feel that way.
Our fuel economy average was, expectedly, 13L/100km. In addition, super unleaded is required.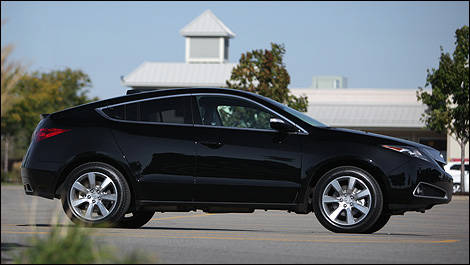 The ZDX is quick; the 0 to 100 km/h dash takes 6.6 seconds.(Photo: Philippe Champoux)
Watch your head
A peculiar aspect of the 2012 Acura ZDX Tech is that it boasts sports-car space despite not being a sports car. The floor is high and the seats are mounted low, so front passengers sit with their legs in an almost horizontal position. Climbing in is easy, but you'll have a hard time getting out without rubbing your pants on the massive door sills. There isn't much headroom, either; and rear visibility is limited by the bisected hatch and fat rear pillars.
The concealed rear door handles did fool my kids, however, as they initially opened the front ones and started to tilt the front seatbacks before I realized they were looking for a way to get inside. From a distance, it does look like a coupe, although I don't know what the big deal is about trying to hide the rear doors.
And when you do open said doors, you'll quickly realize that the ZDX doesn't offer much space in back. Again, the high floor means you sit with your knees up high, struggling to squeeze your feet under the front seats. At least rear occupants get heated cushions, although Acura choosing rocker switches instead of buttons means those sitting in the back will forget to turn them off before exiting.
As for cargo space: Well, you do get 779 litres of volume in the 2012 Acura ZDX, which includes an underfloor storage area big enough to fit my backpack in. Fold down the rear seatback and you get up to 1,623 litres of space. However, there is no cargo cover so your belongings will be visible through the tinted windows.
Despite the lack of interior space, what I personally like the most about the 2012 Acura ZDX is the quality feel of the interior. The curvy dash design is dressed in stitched leather, while the overall appearance is extremely pleasing. The refined ride and great-sounding stereo are also a big plus.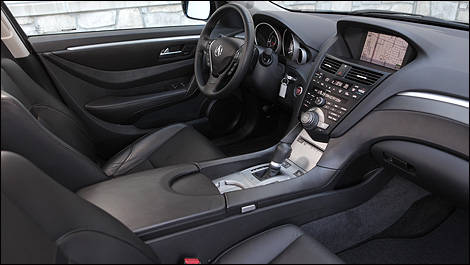 The high floor means you'll sit with your legs stretched almost horizontally, like in a sports car.(Photo: Philippe Champoux)
What about your ego?
Waiting at traffic lights, I'd look in the rearview mirror and spot the occupants in the car behind pointing a finger and having a good laugh. Even children walking down the street were amused, not impressed, by the ZDX. Can a luxury vehicle buyer's ego put up with this? I didn't feel admired at all.
Generally, we try to categorize and compare a vehicle we test drive, and that's why we have so much difficulty not pigeonholing the 2012 Acura ZDX. It could be considered a rival of the
Infiniti FX35
, the
Range Rover Evoque
or a cheaper alternative to the BMW X6 – all of which offer something outside the norm.
I like vehicles that dare to be different. In this case, though, I think Acura went too far in their quest to create something unique. You can't possibly be admired and envied when you're constantly asked: "What the hell is that?" You will, however, get noticed.
Road Tests and Reviews

Consumers
2012 Acura ZDX SH-AWD TECH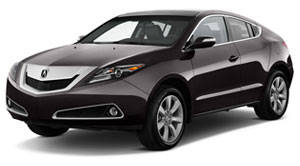 2012 Acura ZDX SH-AWD TECH