Close your eyes and picture it: You're in Monaco, cruising along Quai Albert 1 and you're behind the wheel of a brand-spanking-new car. What car would that be? What car could possibly fit any better in a background littered with bazillion-dollar yachts and buildings?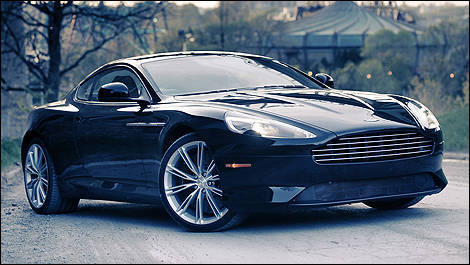 Aston Martin is keen on being authentic, and will remain so, as this is what makes them a very attractive brand. (Photo: Matthieu Lambert/Auto123.com)
That's right, an Aston Martin.
But not just any Aston Martin. A 2012 Virage.
Feels good, don't it? Believe me, it's better than you think.
The simple mention of the name Aston Martin can conjure up emotion, performance and exclusivity. It is difficult to dissociate the two, but James Bond also comes to mind hence Monaco and la Côte D'Azur.
All this good stuff is synonymous with the famed British brand that will be celebrating its 100th anniversary in less than two years. Let's take a few moments to explore each element that make up what Aston Martin stands for.
We begin with emotion. Each Aston Martin is closely related to one another, some having even criticized the ostensible inbreeding, and all are more attractive than the other. From the basic (ha!) Vantage to the very most ultimate DBS, all share a glorious flowing shape that is above any type of criticism. Even Jeremy Clarkson likes it.
The most distinctive features are the predatory front fascias and the part where the roofline meets the rear haunches. Occasionally, car designs fall flat in one respect or another. No so with the Aston. Regardless of angle, colour or location of the sun, these cars are exceptionally beautiful.
In fact, my time at the wheel of the Virage clearly demonstrated that the average Jane and Joe cannot help themselves but to do a double take or stare. I've driven Porsches, Mercedes and Lotuses, but never had I been the recipient of so many gawks.
The Virage is the discerning man's or woman's Aston Martin. It slots in above the
DB9
as the uber luxurious car from that lineage. The 20" wheels are stunning, no less, as are the multiple curves on the Aston's body, but where the car really feels special is when we climb aboard. First though, you get to open the unique and curb ding-saving swan doors. A pure delight to behold, especially when standing behind the car.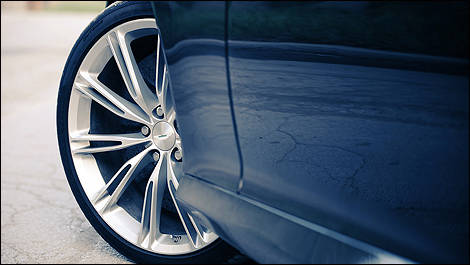 The 20" wheels are stunning, no less, as are the multiple curves on the Aston's body. (Photo: Matthieu Lambert/Auto123.com)