It's somewhat ironic that a company such as BMW is promoting sustainability with the introduction of hybrid models, as well as the upcoming launch of their i division, but also sells 560-hp "M" cars.
Marketing environmentally friendly vehicles such as the
BMW i3 and i8
might be great for publicity and cater to a reputation for caring about the planet, but guess which vehicles are the most profitable? Definitely not the green ones.
The M division is BMW's performance sub-brand, and Canadians seem to have taken a liking to it, as we're one of the biggest markets per capita for M-badged vehicles. The redesigned
2012 BMW M6 Cabriolet
, as well as its
M6 Coupé
sister and the also-new
M5 sedan
, are the most powerful roadgoing cars BMW has produced to date.
Fast and loud
The 2012 BMW M6 is stuffed with a twin-turbo, 4.4L V8 that generates 560 hp and 500 lb-ft of torque that peaks at just 1,750 rpm. The only transmission offered in this beast is a 7-speed, double-clutch automated sequential with paddle shifters.
Once you figure out how to set the car into the raciest driving mode via the console-mounted switches, the 2012 BMW M6 Cabriolet shoots to 100 km/h in 4.4 seconds and punches through a quarter-mile of atmosphere in 12.4 seconds at 190 km/h. No sweat.
The speed rush sends tingles down your spine, and so will the 2012 BMW M6's engine sounds; it emulates American V8 muscle, with exhaust flatulence at every upshift. The twin-turbo V8 builds and drops revs quickly, almost like a small 4-cylinder engine. It's a jewel of a powertrain.
As for fuel economy: well, I don't think you expect miracles here. Drive the 2012 BMW M6 Cabriolet like it wants to be driven and you'll consume an average of 16L/100km. It could be worse; the car gets a start/stop system, an ECO mode as well as regenerative braking to save battery energy, allowing the alternator to decouple when it's not needed.
In the twisties, you'll likely feel the 2012 BMW M6's 4,500-lb curb weight. Oh, the car can handle itself, especially in Sport+ mode, but it has a little difficulty throwing its weight around, and is more of a GT than a pure race car.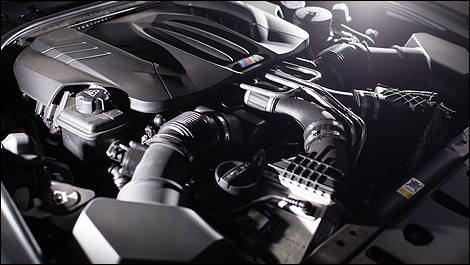 The 2012 BMW M6 Cabriolet gets a twin-turbo 4.4L V8 good for 560 hp(Photo: Sébastien D'Amour)
A big, sexy beast
The 2012 BMW M6 Cabriolet is big and draws a fair amount of attention. Everything on this car feels rich and powerful, such as the highly detailed headlamp clusters, the deep front bumper air intakes, the 20" alloys with massive 295/30ZR20 rear rubber and quad exhaust pipes.
The M6 Cabriolet doesn't offer a power-folding hard top like the M3, but the sturdy cloth top doesn't spoil the look of the car once in place, thanks in part to the low roofline and steeply raked windshield. And despite the folding top, you still get up to 350 litres of trunk space (versus 460 for the Coupé).
Lots of buttons
Inside the 2012 BMW M6 Cabriolet, you are treated to the finest craftsmanship the German brand has to offer. Beautifully stitched leather adorns the dashtop and the centre stack, right down to the centre console armrest.
Around the shift lever, you'll find a bunch of buttons to tailor the M6's drive mode settings to your taste; you can save them on M1 and M2 buttons mounted on the steering wheel. Throttle response, suspension stiffness, power steering effort, everything's there -- overkill, perhaps, but a nice feature to have.
Speaking of overkill, you also get an unnecessarily fussy shift lever that has no "Park" setting; slap it in neutral, lift the electronic parking brake switch, and shut down the engine. However, the car's information display keeps asking you to engage Park, but there isn't any. Very confusing.
In addition, all recent BMWs require that you pull the handle twice to open a door; I searched everywhere in the iDrive system to see if it's a configurable door lock feature, to no avail. It's not a big deal, and you get used to it; but again, it's irritating for nothing.
Oh, and the $5,900 Bang & Olufsen sound system, with its dash-mounted centre speaker that rises and lowers when the system is turned on and off, is simply phenomenal.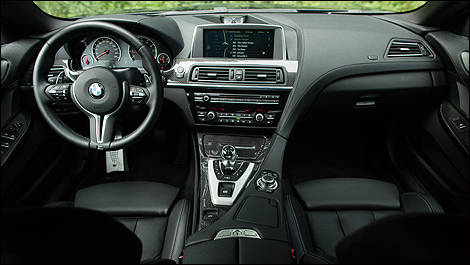 The M6's interior is lavishly trimmed with stitched leather just about everywhere.(Photo: Sébastien D'Amour)
Killer price
With a base price of $128,900, the 2012 BMW M6 Cabriolet can be considered a bargain when you compare it to a $170K
Porsche 911 Turbo Cabriolet
, a $159K
Mercedes-Benz SL 63 AMG
or a $187K
Audi R8 5.2 Spyder
. As tested, our loaded drop-top M6 retails for $146,800.
Not bad for a 560-hp supercar. Those Germans should be considered rocket-science geniuses.
Road Tests and Reviews

Consumers
2012 BMW M6