In the summer of 2012, the 5th generation of BMW's mighty M5 sedan will hit the streets again. And in typical, modern-day, sports-car fashion this latest BMW creation will offer more power, more torque and better fuel efficiency than its predecessor.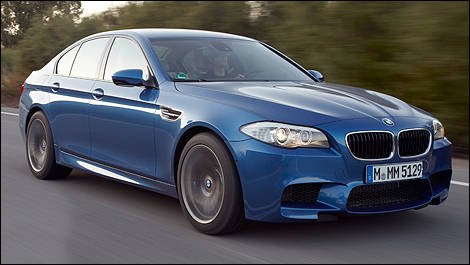 In the summer of 2012, the 5th generation of BMW's mighty M5 sedan will hit the streets again. (Photo: BMW)
Let's have a bit of a history lesson first just to get in the mood, shall we? The first "official" M5 hit the streets in 1985 and was powered by a 3.4L inline-6 that produced 256 hp in North America. OK, enough history: The 2012 model's pony count is more than
double
compared to the original.
The 2012 BMW M5 will inherit a smaller engine than the outgoing M5, which was sold from 2006 to 2010 and was equipped with a 500-hp, naturally aspirated 5.0-litre V10.
The new M5 sheds a couple of pistons by adopting the twin-turbo, 4.4L V8 that's found in the
X5 M
and
X6 M
crossovers, albeit with a few modifications. Total output is rated at 560 hp and 500 lb.-ft. Yes, that makes the 2012 BMW M5 the German brand's most powerful production car engine ever.
Code-named S63Tü (X5 M and X6 M got the S63), the blown V8 gets some internal modifications, larger air-to-liquid intercoolers, a retuned exhaust and a higher maximum boost pressure (1.5 bar versus 1.2). The 2012 M5's peak torque is laid to the ground from 1,500 rpm all the way to 5,750 rpm, while the redline sits at 7,200 rpm – 200 revs north of the S63 engine.
A 7-speed dual-clutch sequential gearbox with wheel-mounted paddle shifters (dubbed M DCT) will be the only transmission offered when the rear-drive M5 goes on sale in mid-2012. Coupled with the twin-turbo V8, BMW says the car reaches 100 km/h in just 4.4 seconds which actually sounds conservative. A speed limiter butts in at 250 km/h, which is more than enough.
A common trait with dual-clutch gearboxes is a jerkiness at low speeds; BMW claims their Low Speed Assistance function smooths out the engine's power delivery in traffic while the driver is feathering the throttle. We'll see.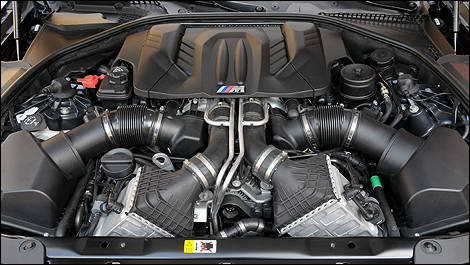 The 2012 M5's peak torque is laid to the ground from 1,500 rpm all the way to 5,750 rpm. (Photo: BMW)