SANTA BARBARA, California
—There are some rough and hard-scrabble roads running through the foothills of the Santa Ynez Mountains. Too firm a suspension setup and the kidneys would be pummelled relentlessly; too soft, and there'd be grave danger of wallowing and rolling off one of the narrow corkscrew turns.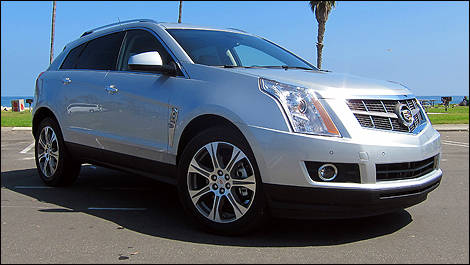 Available in Canadian showrooms by this August, the 2012 Cadillac SRX has a base price of $42,000. (Photo: Lesley Wimbush/Auto123.com)
Thanks to extensive re-engineering, the suspension in the 2012 Cadillac SRX we're driving is just right. It's compliant enough to absorb the broken pavement without transmitting any harshness through to the cabin, yet firm enough to stay planted through the twisty roads without any diving or body roll.
It seems like only yesterday that we drove the all-new SRX (it was, in fact, 2009) which, unlike its wagon-like, truck-based predecessor, is a front-wheel drive crossover with optional Haldex AWD. Since then, the SRX has tripled its market share—globally, it's the best-selling vehicle in the Cadillac lineup. Retail sales went up 33.4% in 2011. Needless to say, it's an important vehicle for the company.
Outwardly, there are no changes to the SRX, no tweaking of character lines, no nips, no tucks. Other than the addition of 20-inch rims on the premium models, and some optional interior goodies, the SRX looks exactly the same as the day it was introduced.
All the big changes lie under the skin. There's one engine choice now—a 3.6-litre, direct-injected V6 with 308 hp and 265 lb-ft of torque. It replaces the rather boggy 3.0L V6 (whose peak torque wasn't reached until 5,000 rpm) and the turbocharged 2.8T—both of which required premium fuel.
The new engine offers not only a 16% improvement in power, it sheds 20 lbs through the use of lightweight aluminum and runs on regular fuel and ethanol. The broad, flat torque curve (peaking from 2,400 rpm through 5,300 rpm) delivers faster acceleration and makes the SRX far more lively than it was. Improvements to the intake manifold and exhaust system let the engine breathe better and perform more efficiently, using less fuel than either of the engines it replaces.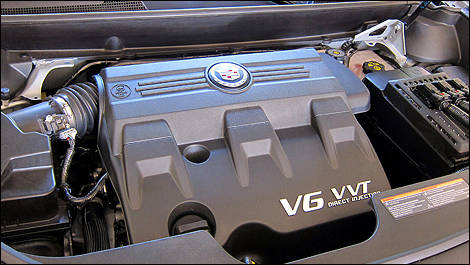 There's one engine choice now—a 3.6-litre, direct-injected V6 with 308 hp and 265 lb-ft of torque. (Photo: Lesley Wimbush/Auto123.com)