For years and years, we've been bugging Ford to bring the European Focus to North America. Not that our version of Ford's compact car wasn't good; however, the model of the same name across the pond was so different, so much sportier and so much more exciting that we couldn't help but complain.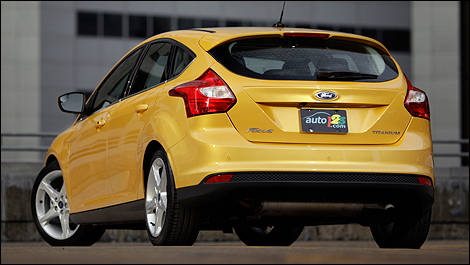 We've waited a long time for the European version of the Focus. (Photo: Sébastien D'Amour/Auto123.com)
It's here – now. You can even get a yellow one if you feel like it.
The 2012 Focus is the global compact car Ford should've given us a long time ago. I guess they were still feeling the burn from the Ford Contour/Mercury Mystique flop; their euro equivalent, the Mondeo, was a fantastic car (and probably still is) that somehow couldn't be translated in a language the US and Canada could comprehend.
Stylishly spectacular or spectacularly stylish
This new Focus is a real global effort, suited for both sides of the ocean. In both sedan and hatchback body styles, it looks great. The slack-jaw grille opening, the fluid lines, the taillights that seem to melt into the bodywork: it all works harmoniously together. And that's very fortunate, as the Koreans are currently wreaking havoc with their organic new designs – the Focus must battle the likes of the stunning new
Hyundai Elantra
, among others.
Inside, the up-level feel and appearance also draws a lot of positive comments around the office watercooler. The dash design is a little busy, but with its alien-style air vents, tasteful application of chrome and silver-painted trim, as well as quality materials, the 2012 edition is a good step ahead of the outgoing model, and lightyears ahead of the original, pre-2008 Focus.
We always liked the SYNC multimedia interface with its USB port, Bluetooth connectivity and strong voice-command software. However, curiously, in our test car teaming it up with the new
MyFord Touch
turned it into a stupid, despicable passenger.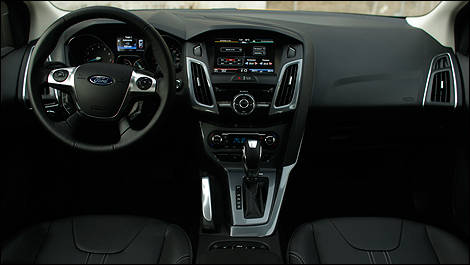 The Focus' cockpit feels upscale and drew a lot of positive comments. (Photo: Sébastien D'Amour/Auto123.com)