Tenerife, Spain—
When you take a quick look at the
2012 C-Class
, it would be very easy to say that only the rouge and lipstick had been changed. After all, only the front and rear fascias have been noticeably altered to make a sleeker (Cd of drag is down to 0.26), more powerful-looking car that is still distinctively a Mercedes. In between and underneath the front and back, components such as the hood, front fenders and door modules have been replaced with aluminum to reduce weight and improve
fuel economy
.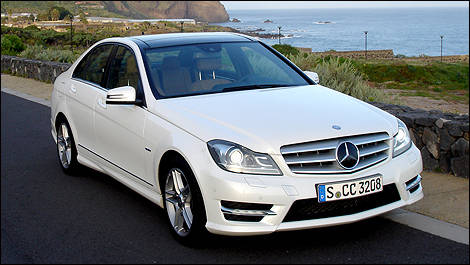 The exterior changes might be subtle, but the addition of a turbo 4-cylinder and a wider range of kit better prepares the C-Class to compete with the likes of the Audi A4 and BMW's next-generation 3-Series. (Photo: Charles Renny/Auto123.com)
In between and underneath is a good summation of where the changes have been made and how obvious they are. The most noticeable change "in between" is that the dash and centre stack have been redone to, as Mercedes engineers put it, "create a more powerful, sporty and high-quality look". To achieve this, the instrument pod is more driver oriented. The speedometer is large and right in the middle. Tach is off to the right while the fuel and temp gauges are in the left dial.
The center stack looks quite normal, with a full range of Comand multimedia system information and a wheel mouse on the centre console to help you toggle through the menus without moving too far from the steering wheel. In Canada, Comand will, depending on the options chosen, operate sat/nav, backup camera screen and all stereo functions with appropriate controls duplicated on the steering wheel.
Seats are much more aggressive in holding the driver and front passenger in place, while the standard 10-way power adjustors make getting comfortable for a long trip on a winding highway very easy. Going down a straight and smooth freeway was just as easy and if you feel the need for more power adjustability, 12-way power adjustable seats are optional.
Back-seat comfort hasn't changed. If you can buy off the rack in medium or large sizes, you will be fine. For those of us who have either long bodies or long legs (or both), comfort is going to be a bit more elusive. Legroom and knee room are a bit limited, but not too bad. Headroom with a sunroof in place is definitely a hair-rubbing situation and longer-bodied occupants will find themselves pulling their head down if the road is slightly rough.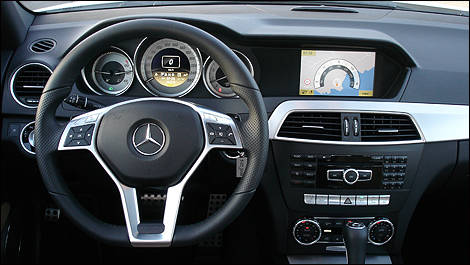 The center stack looks quite normal, with a full range of Comand multimedia system information. (Photo: Charles Renny/Auto123.com)