All the design quirks of previous-generation Jettas are gone, leaving behind the smoothly sculpted 2012 Jetta TDI Highline four-door sedan. Headlamps are integrated and help to blend the front fascia, hood and fenders into a smooth, pleasing shape. A side view turns up a generous greenhouse and then the design drops smoothly to the trunk, which does have a bit of an upturned lip if you look closely. Tail lights are large and placed high in the body so that they don't get covered in too much snow and grime when travelling about.
Space to relax
When you transition from the outside to the inside, you will notice that the Jetta TDI Highline has grown over the years. Large door openings make getting in and out easy regardless of agility level. Sliding into a front bucket is a comforting experience as the seats are subtly shaped to hold most body sizes and types comfortably for hours.
The back seat experience, while not cavernous, is adequate enough that I wish this car had been around when I was a teen and drive-in movies were the rage. Back seats could be very interesting places if there was enough room. As is, all I can tell you there is a decent amount of knee room as the backs of the front seats are sculpted out. Total comfort will depend on the benevolence of those in the front if you shop at "Big and Tall." Head room seems pretty good as I didn't come close to hitting my head on the roof.
Twist and shout
If you happen to need to install a couple of child seats, two will fit comfortably, but the middle seat for the referee will be a bit cramped and uncomfortable. Getting the kids in and out though will be quite easy; thanks to those wide doors. Best of all, you won't need to see a chiropractor after lifting your child in and out a few times.
The European way
Back in the driver's seat, Volkswagen has created a driving environment that is informative, comfortable and easy to adjust. Since the seat is manually adjustable, it took me about a minute to set it so that I was comfortable. Once I had the seat set, it was time to make sense of the instrument cluster. Volkswagen has retained a pleasant European flavour while providing normal North American information. My one complaint about instrumentation actually is a complaint about the stereo system. If I turned the stereo off, it shuts off everything including the GPS. I have to find a mute button or turn the sound down to still use the GPS. This did take a bit of getting used to and was quite aggravating at times.
Additive Free
Another thing that takes a bit of getting used to on the 2012 Jetta TDI Highline is the optional 2.0L diesel engine (2.0 and 2.5L gas engines are also available). This particular TDI engine uses Ultra Low Sulphur Diesel and does not need any exhaust additives to meet the Tier 2 Bin 5 emissions standard currently in place for all engines. In addition to that, peak horsepower seems to be a miniscule 140 hp, but the torque total of 236 lb-ft. that comes on pretty much from idle on up means that this car is not slow.
Respect is a requirement
Unlike gas-engined competitors such as the Subaru Impreza or the Mitsubishi Lancer, I found that I actually had to be very careful with the throttle when starting off. A bit too much push on the pedal sends the front wheels spinning, the traction control cutting in and my fun ruined. By the same toke when I wanted to pull out and pass, getting the 6-speed DSG gearbox into passing gear (or downshifting myself) made things happen very quickly.
On the flip side, feathering the throttle on ice kept the car tractable and enjoyable to drive. In town, getting from lane to lane was no big deal and angle parking was easy. Parallel parking took a bit of practice because the squared-off trunk often made you feel closer to the car behind than you really were.
Don't worry, be happy
Cold starts on this diesel were no big deal since it never went much below -20 C when I had the car. Colder than -20 C and I think I would plug the TDI in, just to make sure there was no problem starting and to help the motor and interior warm up quicker.
The Jetta TDI will change your perception of what diesels are and how well they will do in our Canadian climate.
Road Tests and Reviews

Consumers
2012 Volkswagen jetta 2.0L Highline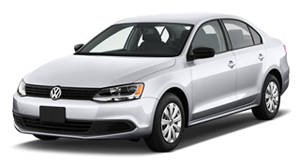 2012 Volkswagen jetta 2.0L Highline