Model:
Mitsubishi Lancer Evolution : Used
Vehicle Type:
Performance Sedan
The Verdict:
Stick to as stock a model as possible, be sure all fluids have been changed religiously, continue changing all fluids religiously, and be on the lookout for signs of transmission trouble and excessive abuse. An on-the-hoist pre-purchase inspection at a Mitsubishi dealer is an absolute must.
Price:
Pricing varies widely in the used Lancer Evolution market, even given the relatively low number of units available for sale. Expect asking prices between $20,000 and $40,000—depending on the year, trim grade and miles.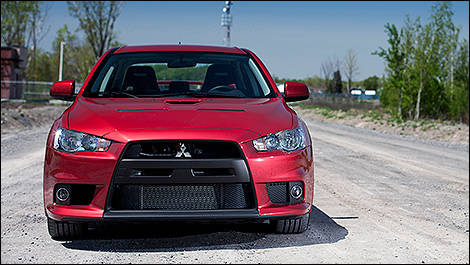 Photo: Sébastien D'Amour
History/Description:
The current Mitsubishi Lancer Evolution launched for 2008 and has been largely unchanged since. This range-topping Lancer variant amounts to a four-door, four-wheel drive surface-to-surface missile engineered for full access to its considerable performance capabilities regardless of skill level, location or prevailing weather conditions. As something of a road-legal rally-car, the
Subaru WRX STI
is the 'EVO's primary competitor.
Feature content may include navigation, xenon lights, a sunroof, Bluetooth, voice-command, automatic climate control and heated Recaro seats. On models where they weren't standard, a performance package added Brembo brakes and upgraded shock absorbers ideal for laying the smack down at track-day.
The Evolution GSR was the lower-end, entry-level model with manual gearbox and fewer toys. The Evolution MR was the loaded package with all of the goodies. A stripped-down, weight-reduced Evolution RS was available, too.
All models got the 4B11 engine—namely, a 2.0L turbo 4-cylinder with intercooler, good for 291 horsepower. That engine came teamed with either a manual or a Twin Clutch Sportronic Shift Transmission (TC-SST).
Though most driving enthusiasts would rather eat a box of roofing nails than drive a boosted, AWD sport sedan with an automatic, this optional 6-speed dual-clutch box manages split-second, paddle-shift gear changes and is only slightly less entertaining than firing an automatic weapon at a wall full of china.
End of the day, a solid used Lancer Evolution from this generation should prove absolutely track ready, and deliver virtually unbeatable all-around performance for the money.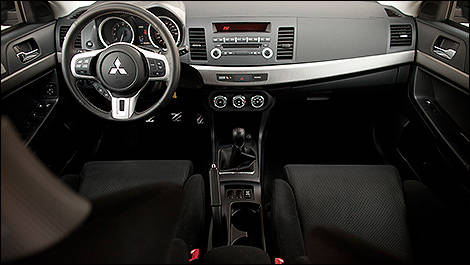 Photo: Sébastien D'Amour
What Owners Like:
Evolution owners love the performance, boy-racer looks, four-door functionality and all-season shenanigans enabled by their ride. The Rockford Fosgate stereo with subwoofer is rated highly too.
What Owners Dislike:
Complaints include the el-cheapo cabin feel, low-budget materials, excessive wind and road noise, excessive thirst for high-test gas, and a confusingly large turning circle.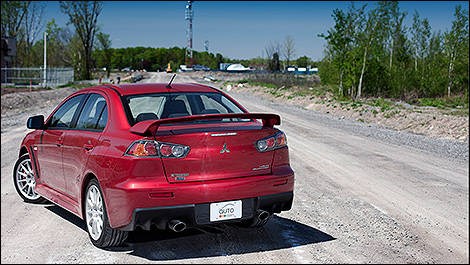 Photo: Sébastien D'Amour
Taking The Used Mitsubishi Lancer Evolution For A Test Drive:
Put your used sports-car hat on when meeting with potential Evolution candidates. Start with the tires and brakes, inspecting for signs of excessive wear. Note that driving on the factory-equipment tires in wintertime is a great way to wind up high-fiving a guardrail, so budget for winter tires and wheels if they aren't included.
Be absolutely sure all maintenance requirements have been adhered to—budgeting for a full fluid change if you're unsure. Key to success at owning an EVO that lasts a good long while appears to be keeping the model 'stock' in terms of engine tuning and power output, and keeping on top of fluid-changes and maintenance.
Some owners report 'weak' factory clutches which wear out more quickly than expected, so 'feel' the clutch engagement for signs of slippage and wear. If you're going with the
TC-SST gearbox, 'feel' it for proper operation. Slippage under moderate throttle while locked into gear can be a sign of worn clutches or internal seals. Some have reported having the transmission replaced under warranty, too.
A shaky idle could be caused by the failure of a poorly installed vacuum line to stay connected to a fitting on the engine, which is an easy fix.
Finally, ask a Mitsubishi mechanic to locate the AYC / ADC pump, which controls part of the AWD system. Have the mechanic confirm that the pump isn't heavily rusted or leaking, as many owners have reported rust-related issues and pump failure.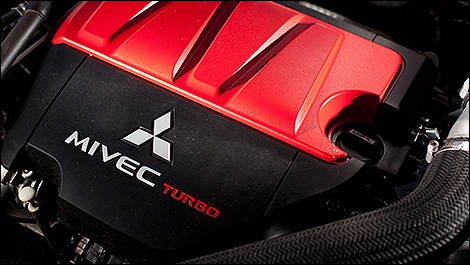 Photo: Sébastien D'Amour