I'm a big guy who's always loved the MINI Cooper because it's a machine that's surprisingly accommodating, great on fuel, and (most importantly) hilariously fun to drive. Building on that last attribute, MINI just released a new model targeting hardcore MINI-fans after a no-nonsense, all-out, race-ready sports model: The
MINI John Cooper Works GP
.
What is a MINI John Cooper Works GP?
On the surface, decals, special wheels, a splitter, a spoiler, and enlarged exhaust tips strongly signal this top-line sports model's intentions. Beneath the skin, it's got shock absorbers that can be adjusted with a wrench to fine-tune the handling to your favourite racetrack, very special Kumho racing slicks, and a set of brakes from the BMW 1M performance car. These deliver prodigious stopping power -- especially considering the GP's light weight.
That weight is even trimmer here than in standard form because the MINI GP has no rear seat, no cruise control, and no spare tire provisions.
2013 MINI John Cooper Works GP Price and Specs
Power comes from a 1.6L turbocharged 4-cylinder with 211 horsepower and nearly as much torque -- and the effect in a car as small and light as the GP translates into some serious firepower. Low-end grunt is richly delivered in an on-demand manner, and a mellow, deep and distinctive exhaust note follows the GP.
Mileage on my watch landed well under 9L/100km -- including plenty of high-speed highway driving. Few machines on the road today pack this powerful a blend of fuel efficiency and all-out performance.
You can park a 2013 MINI John Cooper Works GP in your driveway starting at $44,900.
Driving the 2013 MINI John Cooper Works GP
Drivers can watch the neck-straining acceleration via the Cooper GP's dinner-plate-size speedometer that sits just above the light-effort 6-speed manual shifter. The clutch bites positively, though the electronic throttle numbs gas-pedal inputs when drivers shift assertively, perhaps trying to keep undue strain off the driveline.
Engage the sport-enhancing "GP Mode" from the traction control system to drive like a bit of a hooligan, and the 2013 MINI John Cooper Works GP shines. The immediacy, even abruptness, to inputs uses every touch of the pedal and every twist of the wheel to tell you that this is a serious performance car. The MINI GP offers startling reactions to all inputs, handling that's completely flat, and more grip than you'll know what to do with.
Stopping power is rather startling, too. Stopping space was frequently over-judged for hard-brake testing. The 2013 MINI John Cooper Works GP feels like it'll nearly do an end-o when you jam the middle pedal.
Ultimately, it's the car's steering that shines the brightest. Even the smallest movement is translated into a big steering reaction, supporting an effortlessly mischievous corner-carving experience.
If I've ever driven a car on this side of 70k that felt so ready to hit the racetrack, I don't know what it was. As opposed to building a weekend racecar yourself, this one has a warranty and doesn't require waiting for your eBay parts to arrive so you can slave away for hours in the garage to install them.
The 2013 MINI John Cooper Works GP is relatively peaceful, refined, and easygoing on the highway, too.
Inside and Out of the 2013 MINI John Cooper Works GP
Where "fun factor" is concerned, the Cooper GP nails it. Though it shines when driven hard, it's also "fun" when it comes time to refuel, given its very high thrills-per-litre ratio. The GP can also snipe any parking space or gap in traffic as required thanks to its humorous size.
Complaints mainly centered around the lack of cruise control, which results in accidental arrival at way-too-high speeds on the highway as the sneaky little turbocharger discreetly ramps velocities upwards.
Finally, shoppers are cautioned to be sure they'll benefit from the 2013 MINI John Cooper Works GP's track-readiness, as the tires offer a mere 50 wear rating, and the racing suspension requires a more intensive maintenance schedule than standard models.
Comparing the 2013 MINI John Cooper Works GP
There's no other hot-hatch quite like this one. Neither the
Mazdaspeed3
, nor the
Volkswagen GTI
nor the
Ford Focus ST
feel as sharp, agile or instantly ready to hit the track, even if they are less expensive and more everyday friendly. Conversely, the Cooper GP's price will easily get shoppers a
Mitsubishi Lancer Evolution
or
Subaru WRX STI
-- both of which deliver all-season performance, all-wheel drive thrills and plenty of racecar hardware, too.
Shoppers interested in the MINI GP's blend of giggle-inducing dynamics, fuel efficiency and standout factor are advised to investigate the model quickly: only 50 are available for the Canadian market.
Road Tests and Reviews

Consumers
2013 MINI John Cooper Works
2013 MINI John Cooper Works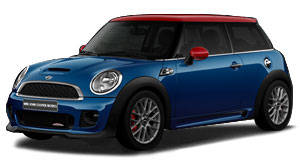 2013 MINI John Cooper Works