PROs:
Besides the free-wheeling joy the feisty 2014 MINI John Cooper Works brings to highway driving, you'll also love its road handling, particularly in an urban environment. And although the MINI JCW delivers relatively better performance, it also boasts relatively low fuel consumption.
CONs:
The biggest problem for the 2014 MINI John Cooper Works is its price tag, which has been appreciably hiked northwards…which doesn't gel with its smaller size and an underwhelming finish of dubious quality. So we can also add a discomfort factor over longer distances.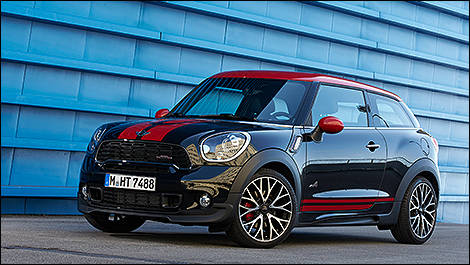 Photo: MINI
2014 MINI JCW Price:
For 2014, the MINI JCW series features six models: the Clubman at $40,815, the Convertible at $45,315, the Coupé at $40,815, the Roadster at $42,315, the Paceman at $42,015 and the Countryman ALL4 at $40,915.
Fuel Economy:
For the Clubman, Convertible, Coupé and Roadster models, the MINI's combined fuel consumption for manual versions is 6.8 L/100 km and 7 L/100 km for the automatics. In the case of the Paceman and Countryman ALL4, the figures are 7.3 L/100 km for manual and 7.7 L/100 km for automatic.
Improvements and Changes:
The 2014 MINI JCW has undergone no major changes.
2014 MINI JCW Powertrain:
Under the hood of the 2014 JCWs, the MINIs get a turbocharged 1.6L 4-cylinder engine. This DOHC direct injection engine delivers 208 hp with a torque of 192 lb-ft between 1,750 and 5,500 rpm and is matched with a 6-speed manual transmission.
Cargo Capacity:
If you opted for the MINI JCW Paceman ALL4, you'll get a roomy 1,090L of cargo space. In the case of Clubman, you're looking at 930L. As for the JCW Convertible, it drops to only 660L. And if you chose the JCW Coupé, you're in for a tight squeeze with just 280L of available space. It gets even tighter with the Roadster with a miserly 240L.
Safety:
As for safety, the 2014 MINI John Cooper Works benefits from disk ABS, brake assist, electronic brakeforce distribution, dynamic stability control and dynamic traction control.
Comparing the 2014 MINI John Cooper Works:
In this performance small car category, you'll find the Fiat 500 Abarth and the Ford Fiesta ST.