Modernized pickup
Pickup shoppers after good mileage, plenty of thoughtful touches, and a hi-tech, very modern cabin and interfaces should check out the
2013 RAM
with the latest powertrain combination: Chrysler's Pentastar V6 engine and an 8-speed automatic transmission. After a week behind the wheel, I noted plenty of space, mileage on par with a smaller truck, and an overall package that was big on flexibility and utility.
What is a RAM 1500 Outdoorsman?
The pickup market is fiercely competitive, and the latest RAM variant entry consists of a refreshed model with a new, high-efficiency gas powertrain designed to appeal to the shopper concerned with mileage more than all-out firepower.
The Dodge name has been dropped as Chrysler moved their truck range under the RAM brand, though the styling, interior, and focus on highly relevant feature content remain strong in the latest model.
My tester was an
Outdoorsman model
with four-wheel drive and numerous option packages tailoring it to an active shopper.
2013 RAM 1500 Outdoorsman Price and Specs
Typically, when you buy a V6-powered pickup truck, friends will gather and reflect, offer condolences, share a meal, and probably have a small service to help mourn the death of your manhood. However, the new Pentastar does make 305 horsepower -- which is more than many V8 pickups engines from not too long ago.
The little V6 is a cutting-edge piece of kit. In other applications, I've noted its smoothness, quiet character, and eager low-end torque. For duty in the 2013 RAM 1500 Outdoorsman, it moves the big truck along with ease at light throttle and stays relatively quiet and un-intrusive. Hammer down, and it's a loud thing to listen to, but sounds nice, smooth and mellow. Particularly, it doesn't sound (or feel) like its straining or being overworked --even if it doesn't operate with the effortlessness of the HEMI V8 during in-town driving.
Cruising in 8th gear at 110 km/h sees it spinning away at just over 1,500 rpm, helping towards a highway cruising mileage landing at 10.5L/100km (on my watch). The air suspension system engages an "aero" mode at speed, lowering the big RAM's body to help it slide more efficiently through the air, too.
Overall mileage landed at 12.9L/100km. Owners can expect that figure to improve as the engine breaks in.
Driving the 2013 RAM 1500 Outdoorsman
On several highway road trips, I enjoyed the RAM's ride: fairly quiet, firm, tough, and dialed in with a healthy dose of that firm jiggle that tells you aren't driving a car. Even bigger bumps do little to upset this machine. Hit a big pothole, and it feels like the pothole got the lousy end of the deal. The commanding driving position and easy reach for most controls supported a laid-back and confident driving experience in the 2013 RAM 1500 Outdoorsman.
In town, in no particular rush, the upshifts in the 2013 RAM 1500 Outdoorsman are nearly invisible. If you weren't paying attention to the number of them taking place via the tachometer, you'd be hard pressed to notice. At the end of the day, the 8-speed feels just like any other gearbox, most of the time.
The optional air suspension system, among other things, can be set to a 'low' position for easier loading and unloading of heavier items. Your friends will think this is a neat trick.
Complaints were minimal, relatively. Parking the RAM 1500 can be a chore for those not experienced with parking a truck. The electronic shift dial, on 3 occasions, failed to select 'DRIVE' the first time I asked for it. Finally, the nighttime headlight performance is adequate at best.
Ins and Outs of the RAM 1500 Outdoorsman
When this generation pickup launched a few years back, it had arguably the best-looking and most functional interior in its class. Today, it's even better. Test drivers will love the new instrument cluster in the 2013 RAM 1500 Outdoorsman that's great looking and highly informative, especially with a big-screen driver display that lets you call up just about any information you'd like.
The new infotainment system is one of the most modern you'll find anywhere on the road today, and it's easily navigated, modern-looking and thoughtful. Handy and luxurious touches are applied throughout the 2013 RAM 1500 Outdoorsman -- including a heated steering wheel and a household power outlet.
Rear seats fold easily out of the way, the rear floor has integrated storage bins, and the box out back has lockable, illuminated and drainable RAM BOXES for secure storage of smaller items. These proved immensely handy for camping supplies, gym bags, shopping, and other items on my watch.
Comparing the 2013 RAM 1500 Outdoorsman
Comparing this RAM 1500 Outdoorsman on the basis of fuel consumption alone is an interesting premise. A check of my records revealed a dead-even threeway between the tested RAM 1500 4x4, a
Toyota Tacoma
V6 4x4 and a well-broken-in
Ford F-150
Ecoboost 4x4. So, on the one hand, RAM's mileage is on par with a much smaller and less-powerful truck. On the other hand, the EcoBoost-powered Ford makes heaps more power and torque using the same amount of fuel.
At the end of the day, those in the market are advised to extensively test drive any truck models that interest them, and investigate the "real-world" fuel mileage reported by owners.
Road Tests and Reviews

Consumers
2013 Ram 1500 Outdoorsman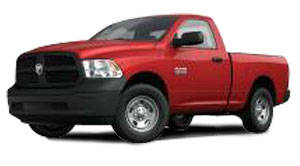 2013 Ram 1500 Outdoorsman