Truly, I'm not a pickup kinda girl. Sure, I love the country. Heck, my parents even have horses (and donkeys), and I ride on occasion. However, if I had the choice (and the dollars), I'd spring for a luxury off-roader to haul my horse trailer and get around the muddy back roads over a pickup. Of course, such is not usually the option for the everyday farmer or the urban cowboy.
So, there are pickups to pick up the luxury SUV slack (pun fully intended). Today's market has some stellar choices, one of which is the brand new 2014 GMC Sierra. Part of our
Pickup Truck Comparo
, the GMC Sierra not only performed rather well against its immediate competition, but I think I have a bit of a soft spot for it somewhere in my automotive heart.
What is the GMC Sierra?
Also known as the Chevrolet Silverado, the Sierra has been in existence since the 1930s. They have been the same truck since then, and remain as such separated by a badge, a name and a few aesthetic differences. The first generation of light-duty Chevy Silverado/GMC Sierra pickups appeared on the road in 1999, and the Sierra is now in its third generation.
The Sierra is, like the Silverado, a workhorse -- it is a purpose-built pickup that offers a multitude of engines, cab configurations, and bed sizes. This is a working vehicle through and through.
2014 GMS Sierra 1500 SLT Crew Cab Price and Specs
The Sierra can be had (in base trim with no options) for just over $26k. Of course, my particular tester was decked out and while it started at just over $48k, the final tally pushed it all the way to $57,060.
Equipped with a 5.3L V8 good for 355 horsepower and 383 lb-ft of torque, the my tested 2014 Sierra GMC is just powerful enough, but not excessively so. Handling the power is a 6-speed automatic transmission.
Payload for the 2014 GMC Sierra 1500 SLT with a standard box and equipped with the 4SA package is 1,830lbs and the max towing capacity is 9,500lbs.
Driving the 2014 GMC Sierra 1500 SLT Crew Cab
Wholly big Batman. Seriously. I know, I know, I'm little and big vehicles are going to feel "big," but never have I actually felt like an entire CUV was riding in front of me at all times -- and it was just the hood of the pickup. This thing is massive.
It was a bit hard to get used to manoeuvring the 2014 GMC Sierra and I was pretty uncomfortable in tighter city street situations. I've not felt that in other pickups of similar stature.
The 2014 GMC Sierra's transmission is a bit disappointing. I thought I liked at first until its lazy personality reared its head. The throttle response is laggy at best, and when I really wanted the Sierra to go (i.e., highway manoeuvres) it seemed confused as to what I wanted it to do. I'd throw the suspension set-up to the list of things I wish were better (along with the weak-feeling brakes) on this particular truck.
Let's not forget that the 2014 GMC Sierra does have a V8 and it sounds quite nice (but not as nice as the Tundra!), and it is easy enough to drive loaded and unloaded. The cabin is a welcome place to be, and longer hauls will pass without discomfort or complaint.
To read more about how the 2014 GMC Sierra handled trailer tows and a loaded bed, you can check out our results
here
.
Inside and Out of the 2014 GMC Sierra SLT Crew Cab
If nothing else, this truck looks insanely manly and like a pickup should look; badass. I love the massive chrome front grille and squared off haunches. The GMC Sierra is a guy's truck if ever there was one, and the new 2014 look is stellar and pulls off that manly trait perfectly.
Of note, the GMC Sierra sports nifty little step-ups on each exterior corner of the bed beside the tailgate, and they are uber useful. I was grateful to have them during our hay bale loads, and think they are very well integrated into the design.
Inside, the 2014 GMC Sierra SLT is all business, but in a luxurious kind of way. Pickups are, after all, working trucks so their interiors have to be functional and comfy. GMC managed to pull that off to near perfection with comfortable seats and a driving position I found spot-on.
GMC's onboard HMI is easy to use and the gauge cluster is functional and aesthetically pleasing. Moving into the 2014 GMC Sierra for the week was not a chore, even my son enjoyed his elevated and roomy seat on the rear bench.
Comparing the 2014 GMC Sierra SLT Crew Cab
Compare the Sierra is just what we did, and against its closest competition: the
Ford F-150
,
Ram 1500
and
Toyota Tundra
. While the Sierra was slotted to do extremely well (at least on paper we all thought it would), it disappointed in areas we'd not anticipated. Make no mistake, the Sierra is a fabulous pickup truck, and GMC fans will not be disappointed, but there are other (slightly better) options out there if you're in the market.
Road Tests and Reviews

Consumers
2014 GMC Sierra SLT Standard Box 4SA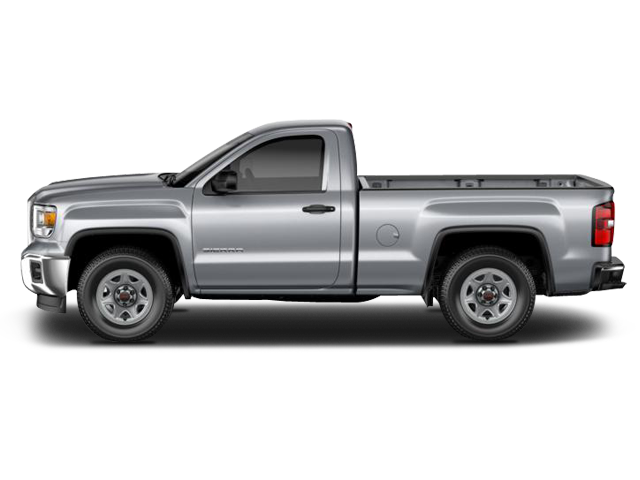 2014 GMC Sierra SLT Standard Box 4SA