Pickups are the backbone of North America. Pickups could be credited as being the most instrumental tool that built both the modern US of A and Canada. Their importance on our automotive landscape is paramount.
For the recuperating Big 3, their pickups are a sign of strength of enduring presence of health. The more they manage to put on the streets, the deeper their pockets are and the better the bottom line gets. In fact, the condition of the economy is often mirrored by pickup take rates. If business is bad, sales decline. If sales decline, business is bad...
Workhorse
Thousands upon thousands of small- to medium-size companies depend on their work trucks, their pickups. They are their livelihood and, in many cases, their most valuable asset. It is with this in mind that manufacturers continue to improve upon the old recipe that is a pair of frame rails, a bed, and a cabin. In fact, so good and well-rounded have pickups become that many, if not most, find double duty as both family and "heavy" duty vehicles.
The rate at which modern pickups have evolved is as rapid if not more so than the average automobile. No longer are pickups unrefined, crude, and loud. Save for an exception or two, other than the ability to tow a house and carry all of its furniture, these trucks are usable on a daily basis -- without compromise.
Competition never lets up
2013 was a very big pickup year. With only five manufacturers playing in the full-size segment, and all making important announcements or changes to their offerings, the time was ripe for a comparison test.
With the notable exception of the
Nissan Titan
(Cummins diesel engine coming next year), the four players in this game were the
GMC Sierra
(very much new), the
Ford F-150
(facelift and trims), the
Toyota Tundra
(facelift and more) and
Ram 1500
(new engine and more).
Test days
The evaluation of these rigs took place over two days and involved a number of exercises. Day 1 was dedicated to on-road driving experiences and some very mild off-road shenanigans.
Day 2 was trucking day. We loaded each truck up with bails of hay and hitched them to a trailer. The results of these tests were highly conclusive and genuinely made the better trucks shine while the others suffered.
Here we have the final scores along with a breakdown of the highs and lows for each truck. They are ranked in order and, frankly, we were not surprised to see who came out on top; however, we did expect more from some especially given the way some were spec'd out. Read on.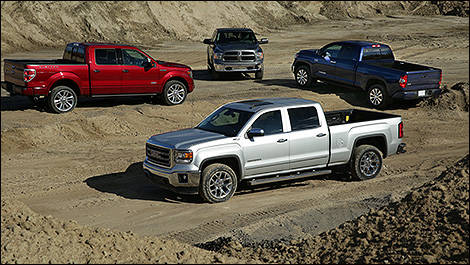 Photo: Philippe Champoux