The low-riding, high-boost new entry to the AMG brand's line of juiced-up, rorty-snorty rocketships is called the CLA 45 AMG, and it amounts to a highly agitated, stimulant-fed version of the sensible new Mercedes CLA 250 entry-level luxury sedan. It's hardcore, loud, and set very deeply on the "sport" side of the luxury-sport equation.
What is a 2014 Mercedes-Benz CLA 45 AMG?
The CLA 45 AMG is what teenaged car-buff me would have created if he'd gotten his hands on the standard CLA and a boatload of cash for custom parts. And, if you're a younger sort of car buff who's spent weekends wrenching on your import tuner-type ride in the not-so-distant past, the CLA 45 AMG will make you feel right at home.
There's a body kit with vents and a front splitter, and the fancy xenon lights that tuners love. There are big exhaust pipes and humongous red brake calipers clamping on big slotted discs behind custom rims wrapped in performance tires. You probably installed some metal sports pedals and some sports seats in your former compact tuner car -- the CLA 45 has them, too.
Like your old tweakedGTI,
EVO
, MR2 or Cobalt SS, the CLA45 gets a 2.0L engine with a monster turbocharger. Output is 355 horsepower: good to make this new powerplant the most powerful 4-cylinder engine on the market, and the highest output-per-litre engine you'll find in a new car today. Although the tuner kids have been making big power from little turbo engines for decades, this one probably won't toss a rod through its block or melt down like an over-boosted Eagle Talon.
2014 Mercedes-Benz CLA 45 AMG Price and Specs
All copies of the CLA 45 AMG get the 355-horsepower turbo-4, 7-speed speedshift dual-clutch gearbox with paddle-shift, and 4MATIC All-Wheel Drive. Prices start a little shy of $50,000 with a handful of options and packages available for fine-tuning.
Driving the 2014 Mercedes-Benz CLA 45 AMG
Hammer on it, and a little turbo lag precedes a lot of exhaust snort and a body-slam into your seat as the turbo force-feeds the cylinders with 26 PSI worth of high-octane gas and intercooled air. Head for redline, and the instruments turn red to remind drivers to click the upshift paddle, which rips off a gear change in milliseconds and sends a delightfully sharp burp from the tailpipes. Notably, this engine packs robust low-end pull, and a midrange torque band that's meatier than a bag full of Baconators.
Former tuners will be familiar with the deep humming exhaust note while cruising around, and the barrage of turbo noises coming from under the hood, too. They're proudly on auditory display, so you can sound your mighty blow-off valve at fellow car buffs to tell them what's up.
The 7-gear dual-clutch transmission can fire off fully rev-matched gear changes in a split second via the shift paddles. It's not the fastest gearbox of its breed, but it's entertaining to shift manually, nonetheless.
The 2014 Mercedes-Benz CLA 45 handles precisely, flatly, and with an athletic confidence that sees it clamp into fast corners with gusto. The steering is quick and playful -- more frisky than calculated, and precise -- and loads of fun.
The track-ready suspension calibration results in another familiar element from your former custom sports car: a stiff, rough ride that you put up with because it rips corners like a boss. On rougher surfaces, the springs keep the body bouncing quickly and tightly over the wheels. It feels nearly like a serious aftermarket coilover setup in terms of bounce and rebound.
The massive AMG brakes bite hard and fast from an initial press, and pedal feel is fairly precise but not exemplary. Regardless, they'll get you stopped with startling speed when called upon. The AWD system works conversely -- pre-engaging all four wheels whenever the Merc CLA 45 AMG is at rest so drivers always get maximum traction for fast off-the-line launches.
Other notes? I recorded an exceptional test-average gas mileage of 10.1L/100km, which is about the same as a
Volkswagen GTI
. The xenon headlamps are potent, well calibrated and should add plenty of confidence when driving on dark roads.
Inside and Out of the 2014 Mercedes-Benz CLA 45 AMG
Cues setting the AMG variant apart from standard CLA models are subtle, and in all the cabin pulls off an atmosphere that seems equal parts luxury, sportiness, and high tech. The front seats are gorgeously comfortable, though the rears are best left for very short adults or children, as headroom is very limited.
Further, the central display screen looks a little hokey -- almost like a tablet attached to the dash as an afterthought.
Comparing the 2014 Mercedes-Benz CLA 45 AMG
For some contrast, shoppers test-driving a CLA 45 AMG are advised to check out the BMW M235i, as well. Though not a "true" M car, this little hot-rod Bimmer delivers similar visual impact, pedigree, and precision. It's not as powerful, but it's a smoother and more refined performer, and likely a worthy model to investigate for shoppers after a more even blend of power and luxury.
Road Tests and Reviews

Consumers
2014 Mercedes CLA-Class CLA 45 AMG 4MATIC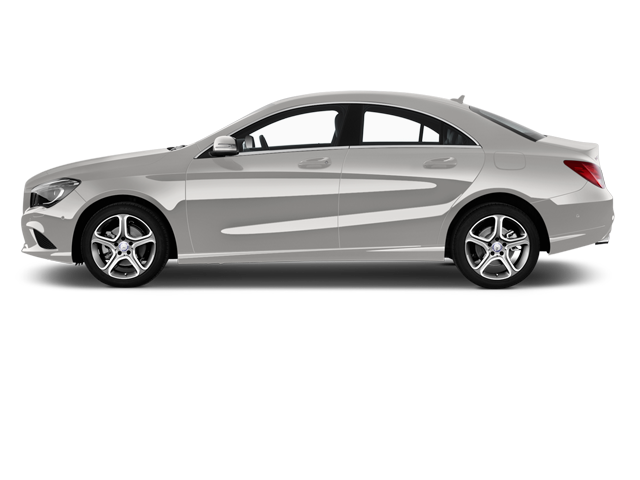 2014 Mercedes CLA-Class CLA 45 AMG 4MATIC