Marseille, France.
The upcoming 2014 Mercedes-Benz CLA 250 was recently introduced in France to select Canadian auto writers ahead of an on-sale date set for fall 2013.
This highly-attainable new "four-door coupe" is safe to get excited about. A smaller, front-drive cousin of the iconic
Mercedes CLS
, it intends to be a new and unconventional entry-point to the brand for Canadians. The 2014 Mercedes-Benz CLA's great to drive, and comes off as a purebred Benz, inside, outside and at the driver's fingertips.
Attainable Benz Magic
I have a friend called Billy Cullens. He's a hard-working young father and massive fan of cars that he refers to as 'baller'—that is, cars with pedigree, class, exclusivity, and (where possible), offensively large chrome wheels.
Cullens, and countless aspirational folks like him, light up when they come across a high-dollar Benz. It's largely the looks, attitude, and sense of occasion, as well as the hope that one day, a new Benz would be one's rolling lounge to celebrate one's successes, and communicate them to those nearby.
When Cullens sees the pricey Mercedes CLS on the road, he stops dead, loses control of most motor functions, and salivates all over everything nearby. There's magic in that three-point star for folks like him.
Sadly, like many Canadians, Cullens can't afford a CLS. He can afford the new 2014 Mercedes-Benz CLA, though, and I think he'd buy one.
Looks
The 2014 Mercedes-Benz CLA is a small car with the detail and styling energy of a flagship. The brand's latest classy and youthful style cues are applied, as are stout proportions which give the CLA a beefy, muscular demeanor inspired by its big buck bro, the CLS.
Two distinct character lines run down the side of the car, and the fascias are vibrantly confident. All said, the latest Benz packs a concentrated visual punch, and looks like a seriously big deal coming down the road.
A Remarkable Powertrain
One powertrain and two drivetrain options will be served up in Canuck-spec units. A 2.0-litre direct-injected four-banger with intercooled turbo spins up 211 horses and nearly 260 lb.-ft of torque. This drives the front wheels as standard, or all four optionally. A 7-speed dual-clutch transmission is the sole offering here, even if other markets get manual-equipped variants.
Hammer the throttle from a stop, and the 2014 Mercedes-Benz CLA 250 glides forward a half-second before the turbo gets working, at which point the front tires scramble slightly for grip until the quick shift up into second.
There's virtually no torque steer or axle hop—just creamy, head-in-your-seat pull and a mellow hum from the engine room. This little beast of an engine has impressive low-end kick and works smoothly, even when spinning fast. It reminded me of a
VW GTI
, and that's a good thing.
Even pushed towards its limits on twisty French back-roads, only a hint of understeer ever became apparent. Mostly, the 2014 Mercedes-Benz CLA just bites in and goes where you point it, more so with the 4MATIC AWD on board.
A striking cabin
Drivers enjoy it all from a cabin full of sporty touches—including plenty of red accent stitching, sport seats with one-piece seat-backs, SLS AMG inspired gauges, frameless windows and more.
A big aluminum trim piece adds contrast to the center of the dash, and the aviation-inspired air-vents dial in some unique flare and some distinctive character. The 2014 Mercedes-Benz CLA's dash and instruments look as upscale and fresh as its body.
Gripes? The manual seat adjuster on the passenger-side is a large dial wedged with an inch to spare between the seat and lower area of the B-pillar, and rear seat headroom, thanks to the swoopy roofline, will be tight for full-sized adults.
The Drive
Very intentionally, the 2014 CLA feels like a Mercedes at the fingertips. In the cabin, that means premium surfaces in the right places, and substantial tactile responses to the switchgear.
It's relatively quiet at speed, even exceeding the 130 km/h speed limit on French highways while overtaking gaggles of Peugeots. The sport suspension doesn't murder ride quality, and even the standard comfort suspension is more than happy to be tossed around.
In the process, the 2014 Mercedes-Benz CLA feels solid and dense, and takes direction via a steering system that's quick enough to encourage hard driving, but heavy enough to inspire a sense of locked-on confidence in the process. Brakes are remarkably powerful, even if they lack the precise pedal feel you'll find elsewhere in the market.
The whole package isn't as sharply mischievous as a
Cadillac ATS
when you drive the bejesus out of it, nor as effortless as a
BMW 3-Series
. All said, the CLA's performance capabilities nicely balance the tastefully refined character promised by its badge with the brag-worthy dynamics its potential owners will cross shop against.
I imagine folks like Billy Cullens will be keeping their eyes peeled and wallets ready for the first units to arrive at dealers this fall, with a starting price of $33,900.
Road Tests and Reviews

Consumers
2014 Mercedes CLA-Class CLA250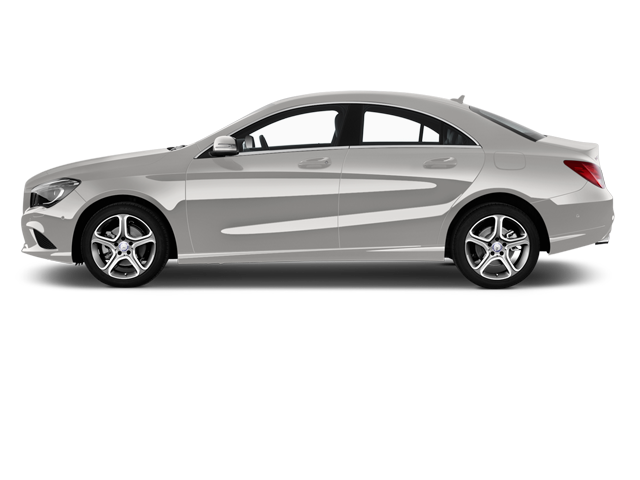 2014 Mercedes CLA-Class CLA250