Los Angeles, CA --
The Porsche Cayenne has been called many things from an aberration to a saviour. To put the debate to bed, it is the farthest thing from an abnormality, and yes, an absolute rescuer. Consider for a moment an automotive landscape without the Carrera GT and the insanely mental 918 Spyder. I can't either. Thank the Cayenne.
The 2014 Cayenne is Porsche's Swiss Army knife. One cannot very well go off-roading in a
911
or carry four people in comfort in a
Cayman
. Although I've done both in a
Panamera
, the Cayenne remains the German brand's tool for that particular trade.
In diesel form, the Cayenne loses nothing if the number of litres per 100 km required to get around. It remains as handsome as always, seriously fast, and an incredible on- and off-road machine. Whether spending minutes or days at the wheel, this truck's mettle is immediately appreciable.
What is a Porsche Cayenne?
The 2014 Porsche Cayenne is Stuttgart's famous performance brand's SUV. Until recently, it was the only one in the lineup, now it's joined by the
Macan
. The Cayenne first saw the light of day back in 2003.
In its most basic trim, it also currently serves as one of the entry-level products offered by Porsche. The appeal of this midsize luxury performance SUV is its ability to fit in any given surrounding thanks to any one of its nine trims.
2014 Porsche Cayenne Price and Specs
The 2014 Porsche Cayenne is like all other Porsches where they can be heavily optioned out in any trim. For starters, the base Cayenne V6 trips the price scale at $57,500. With enough conviction and time, I was able to more than double the price by adding a few choice options. At the other end, in Turbo S territory, for a paltry $166,600, you can destroy supercars.
My tester was a well-dressed U.S.-spec diesel. In Canada, it starts at $65,500. South of the boarder, one can be had for $55,750 USD. With options such as air suspension, Premium Package Plus, 20" Cayenne SportDesign wheels, and the two-tone leather interior, the bottom line worked out to $92,450 USD.
The 2014 Porsche Cayenne can be had with one of five different powertrains: 300 hp 3.6L V6; 400 hp (S), 420 hp (GTS) 4.8L V8; 380 hp (hybrid) supercharged 3.0L V6; 500 hp (Turbo), 550 hp (Turbo S) twin-turbo 4.8L V8. The base V6 can be had with a 6-speed manual box. All others get a standard 8-speed Tiptronic S automatic transmission.
The Cayenne that carried team Auto123.com to SEMA from Los Angeles was shod with the 240 hp turbo diesel 3.0L V6. Its 406 lb-ft of torque are the kicker.
Driving the Porsche Cayenne
I covered 1,000 miles (1,600 km) in a week's time with this performance SUV, and I loved every minute of it.
Let's get the boring out of the way: The Cayenne Diesel's range remained impressive. After trudging through L.A. traffic on the 405, climbing through the mountains between Lake Arrowhead and Mt. San Antonio, and covering roughly 700 km, we filled the tank up for fear the gauge was lying. With an indicated 25 MPG (9.2L/100 km) with three adults, luggage, and camera gear in the boot (as well as crossing the California Mountains into Nevada), this was a staggering number. Believe in diesel.
We were already sold on the idea; we didn't pick the fuel-burner randomly. At no time was I wanting for more power despite the not inconsiderable load. Passing in an uphill climb (damn Corollas!) was a breeze. Torque builds up seamlessly from 1,750 rpm and the swell of boost carries the Cayenne forward with gusto. Be mindful that the big diesel Porsche will not blow the doors off an Infiniti QX70 3.7L, but it'll outlast it in the long run.
The 8-speed automatic transmission is phenomenal. In "normal" mode, it glides from gear to gear almost unperceptively and would hold or downshift without coaxing. With "Sport" on every manner of the drive sharpens and is crisper. Note to those addicted to "Sport Plus:" throttle response can become far too sharp for normal driving -- best to reserve this for the track.
Steering and brakes especially were up to Porsche standards in the 2014 Cayenne, which remain some of the standards by which all are measured.
Equipped with the optional air suspension, our 2014 Cayenne Diesel was ready for anything. As you can see in the gallery, we trampled through the desert because we could. Another option on this Porsche was an under-body offroad protection package. Hence, its ability to "fit in any given surrounding."
As we cruised along The Strip in L.V., although covered in dust, it looked just right. As we pulled into the Aria's valet reception area, we felt like kings. Unfortunately for the valet, I'm still a poor auto journo and his tip was pretty pathetic...
Inside and Out of the 2014 Porsche Cayenne
Climbing aboard to what is now a very familiar sight with all Porsche vehicles is rewarding. The opulence mixed in with craftsmanship and the two-tone Umber and Light Tartufo leather interior practically took my breath away.
All occupants were treated to firm yet supportive perches that kept everyone happy and comfortable on our long journey. The large trunk managed our luggage with little difficulty; we did not pack lightly for this trip.
Comparing the 2014 Porsche Cayenne
The 2014 Porsche Cayenne plays in a league littered with numerous luxury SUVs. Its main rivals come in the shape of the BMW X5, Audi Q7, Range Rover Sport, and Infiniti QX70 to name a few.
Of the lot, the Cayenne is the only to offer such a wide range of powertrains and from a purely brand perception point of view, only the Range Rover comes close to the Porsche's level of distinction.
Road Tests and Reviews

Consumers
2014 Porsche Cayenne Diesel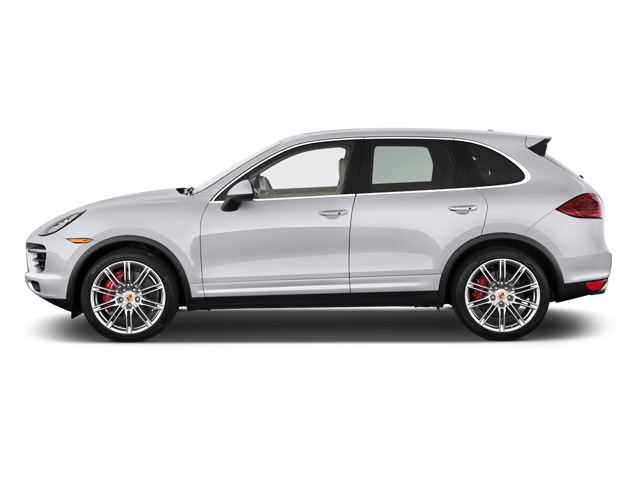 2014 Porsche Cayenne Diesel