Hyundai has a found a very simple way of keeping the Veloster relevant for the 2016 model year. Initially launched in 2012, this sporty little coupe gets a limited-production, high-performance Rally Edition that should please driving and tuning enthusiasts alike.
This new model is based on the 2016 Hyundai Veloster Turbo (which got a few upgrades of its own), but adds some exclusive components to win over more discerning customers. Is it a last-ditch attempt to boost sales of the low-volume 3-door athlete from Korea? We shall see.
What's so special about the Veloster Rally?
First of all, the Rally Edition of the 2016 Hyundai Veloster draws attention with an exclusive and unique matte blue finish, along with lightweight and aggressively styled 18" RAYS alloy wheels. The latter not only add flair, but also save unsprung weight (2.27kg per wheel). Blacked-out accents that look like carbon fibre dress the rocker panels, which is a bit ridiculous, don't you think? I mean, sorry, but the Veloster is supposed to be a simple, affordable coupe; not an exotic car!
The Rally Edition also sports the Veloster Turbo's large front grille, and Hyundai has wisely eliminated the fake hood scoops. In the rear, you'll find a roof-mounted spoiler and an eye-catching diffuser with twin exhaust tips in the middle. It sure makes for a polarizing look overall.
Does Rally actually mean extra performance?
The Hyundai Veloster Rally Edition's improved performance doesn't come from the engine, which is the same 1.6L turbocharged 4-cylinder with direct injection as the Turbo model. However, the 6-speed manual gearbox (no automatic, yay!) benefits from a short-throw shifter courtesy of B&M Racing, and I can tell you that it makes a real difference in terms of driving excitement (the regular stick lacks precision).
Even more importantly, though, is the sport-tuned suspension with upgraded shock absorbers, coil springs and a stabilizer bar resulting in even more responsive and sharper handling. Speaking of which, Hyundai engineers gave the Veloster Rally Edition a torque-vectoring system that distributes more torque to the rear outside wheel in a corner to effectively push the car toward the exit. It may sound a bit complicated, but it works!
Add 10mm wider Kumho tires and quicker-ratio steering for 2016, and you get enough upgrades to satisfy those who were getting a bit bored by the old model and wanted more.
Is the cockpit sportier, too?
Inside, not much has changed. The dashboard is identical, which isn't necessarily a bad thing because it's nicely designed and finished with quality materials. The main controls are pretty user-friendly, too.
Passenger room is definitely not a strength of the Hyundai Veloster, especially in the rear where the sloping roofline isn't kind to taller occupants. On the flip side, the front seats prove accommodating both in terms of space and comfort. The sport buckets with embroidered "Turbo" lettering now do a better job of supporting and holding the body in check when negotiating twists and turns.
The driving position is easy to find, and the Rally Edition's new shift knob is more conventional and more pleasant to grab. Things get tricky when you look through the rear-view mirror, however, as visibility is very limited. You'd be wise to rely on the back-up camera.
How much more fun is this Veloster?
Personally, I've always believed that the Veloster had the proper compact architecture to incorporate a force-fed engine. Despite all this, even the Veloster Turbo can't quite deliver the performance fans were looking for. Output may be similar to an Mk6 Volkswagen GTI, but it doesn't feel like it.
While the Rally Edition is still rated at 201 horsepower, don't assume that performance isn't improved. With the aforementioned sport-tuned suspension, short-throw gearbox, lighter wheels, and torque-vectoring system, this Veloster is more agile than ever. Of course, it won't out-handle a Ford Fiesta ST, but the race will be tight.
Once again, I must insist on the precision of the shifter -- by far the most pleasant surprise of the Veloster Rally Edition in my book. It really transforms the little hatch (did I forget to mention this car has a hatch?) into a fun-to-drive, let's-do-this-again sporty car. Fuel consumption hovered around 10L/100km despite my repeated efforts to push the engine, which is very reasonable.
A good buy?
The 2016 Hyundai Veloster Rally Edition retails for $26,999 before you start adding options. For the money, you inherit the most fun Veloster, ever. Generously equipped, more rewarding for drivers, and dressed like no other, this limited model represents a good deal… if you're in the market for such a car, obviously.
Now, time will tell if this is enough to drive sales and justify a second-generation Veloster.
Road Tests and Reviews

Experts

Consumers
2016 Hyundai Veloster Turbo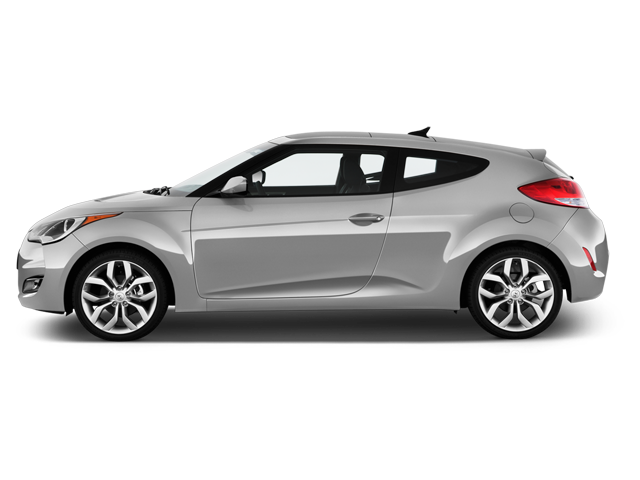 2016 Hyundai Veloster Turbo