Fans of the American TV series "Dukes of Hazzard" now have a chance to buy their own Charger "General Lee". On September 26, the mythical muscle car shown on these photos will auction by
RM Auctions
at a one-day event, billed as Icons of Speed & Style, at the Peterson Automotive Museum in Los Angeles, California.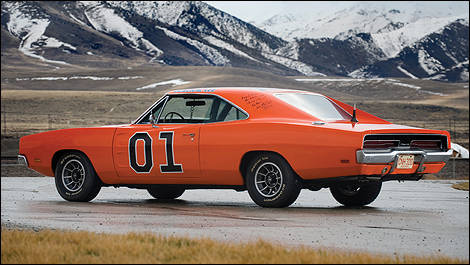 Buying an original Charger "General Lee" for $40,000 to $60,000 US might be possible next September 26 in Los Angeles.
This particular General Lee is believed to be one of the cars associated with the original television show. Although no concrete evidence is currently available to confirm its use in one episode, its authenticity is supported by signatures on the hood of the car of actor John Schneider (Bo Duke) and custom car builder for the stars, George Barris, whose company helped prepare many of the original "Generals" for the show.
A "real" General!
"Dukes" fans will recall the original General Lee was of the 1969 vintage, as evidenced by the proper grille and taillights. Unlike the '68 and '70 cars that were modified for shooting, this particular Charger is a true 1969 example, as verified by its chassis number, and is finished in the traditional bright orange with a hand-painted rendition of the rebel flag on the roof and the instantly recognizable "01" numbers on the doors.
Under the hood is a vintage 6.3-litre big-block V8 (383 cid), which is the same type of engine this car left the factory with. The car has been fitted with the proper after-market alloy wheels that were used during the filming as well as the custom push-bar to protect the grille... when the Dukes chose to push Rosco's police cruiser or Boss Hogg's white Caddy.
This General is also equipped with five air-horns that play the whimsical opening bars from "Dixie", the song of the South, another trademark highpoint of nearly every episode—remember the heroes were Georgia Red Necks!
The interior is finished in saddle tan vinyl just as it was when the Dukes were behind the wheel. In fact, the car even retains its correct push-button AM radio and the interior is generally quite stock in appearance, save for the roll bar of course.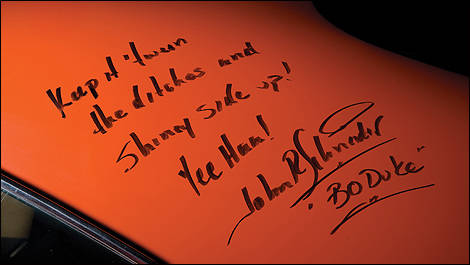 RM Auctions experts say this autograph confirms this car was really used in the Dukes of Hazzard production.