General Robert E. Lee was the man who led the Confederate Army of Northern Virginia during the American Civil War, but enough about him because by far the most famous General of that surname was the modified
60s Dodge Charger driven by Bo & Luke Duke in the hit television series
, The Dukes of Hazzard (1979-1985).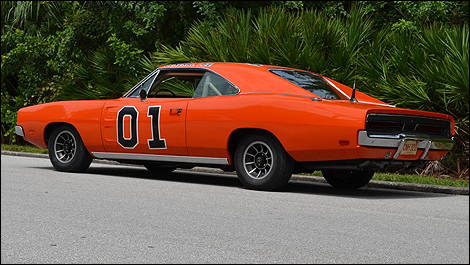 Photo: Barrett-Jackson
With its bright orange paintwork and the prominent Confederate flag on its roof, it's hardly the vehicle I would have chosen if I were on probation for running bootleg liquor around the back roads of American South, yet for a television comedy caper, you couldn't have picked a better looking hero car!
The series was developed from the 1974 B-movie Moonrunners and starred Tom Wopat (Luke Duke), John Schneider (Bo Duke), Denver Pyle (Uncle Jessie) and Catherine Bach (Miss Daisy Duke). A huge hit, the show became famous for many things over the course of its lifespan, from its corrupt commissioner, Boss Hogg (Sorrell Booke) with his bumbling police force, to Daisy's skimpy cut-off denim shorts. Yet by far the greatest draw for TV viewers were the high-action automotive stunts involving the
General Lee
.
Growing up in the 70s myself, I can't recall an episode which didn't feature the famous car sailing through the air, so the production costs in vehicles alone must have been horrendous!
The numbers of Chargers rumored to have been used in the series varies according to whom one speaks. Some place it at approximately 250, while others estimate that well over 300 vehicles were used during filming. Whichever figure you choose to believe, that's an awful lot of classic American muscle to go the way of the junkyard.
Approximately seventeen General Lees are believed to still exist in various states of repair. Perhaps the most prominent of these is Lee 1, one of the 3 vehicles used in the very first episodes. Having spent many years abandoned, the vehicle received a total restoration and was sold recently during the Barret Jackson sale in Scottsdale, Arizona (January 2012) for $110,000. I personally feel its new owner (Pro-Golfer Bubba Watson) grabbed himself a bargain there as a replica which was built for John Schneider (Bo Duke) sold at auction back in 2008 for an astounding $450,000.
Of course, if those sorts of figures scare your bank manager, you could always build a replica for yourself. Many have! In fact, I've seen so many of these over the years at various car shows that I'm starting to wonder just how many 60s Chargers are still out there that are not painted bright orange!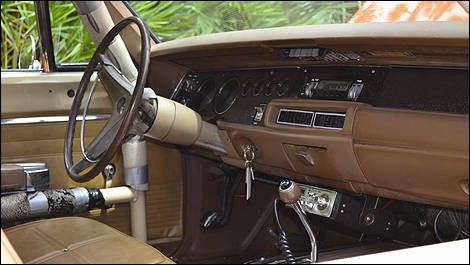 Photo: Barrett-Jackson