A Cat of Different Stripes
They say a cat has nine lives. Well Mercury's little Cougar has lived them all. 2002 was the last model year for the sporty cat, which is unfortunate given the many attributes and qualities our domestic friend brought to its human owners.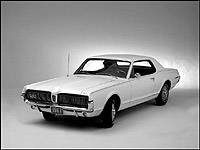 The Cougar was introduced in 1967 as an upscale alternative to the popular Mustang. (Photo: Ford Motor Company)
Back in 1967 the Cougar was introduced as the upscale cousin to the Mustang. During the many years that followed, the Mercury's sports car bulked up, and by 1979 morphed into a land yacht bearing much in common with the engorged Thunderbird of the era. The price of precious liquid octane and consumer demand forced it to diet during the 1980s.
The latest incarnation provided consumers with an economical but very sporty two-door coupe, motivated by either an in-line four-cylinder powerplant or an optional V6 for those wishing to chase faster prey.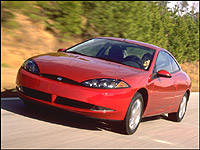 Aiming for sport over luxury the last generation Cougar was an entirely new design for Mercury. (Photo: Ford Motor Company)
The last generation Cougar was an entirely new design for Mercury, with nothing held over from the larger 1989 - 1997 MN12 chassis. In fact the new Cougar was based on the freshly minted and highly touted Ford Contour/Mercury Mystique platform. The Cougar adopted a 2 + 2 format designed to seat four adults, however I would suggest basketball players up front and jockeys in the rear.
Evident at first glance is a design theme that emphasizes sport over luxury and youth over maturity. The overall wedge shape, mix of angular and curved design cues, plus a high belt-line exhibit a look of modern athleticism that has evaded the Cougar since the 1960s.