Your Own Mobile Chia Pet
I've driven a few Rios over the years and was always surprised at how well put together the car is for such a low price.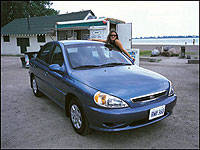 I'm consistently surprised at how well Kia's are put together, especially considering the value pricing. (Photo: Kia Canada)
Its interior doesn't offer premium tactile quality or anything, but its fit and finish goes above and beyond many competitors despite its lowest price in Canada status.
The more obvious surface quality translates into subsurface reliability as well, at least in the Kia Rio's case. In its initial three years, only one recall caused owners the need to visit their local dealers unexpectedly, an impressively low statistic compared to most domestic and European makes.
The irony is that most consumers would rate Kia, and its South Korean compatriot Hyundai at the lower end of the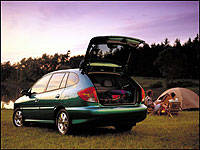 The Kia Rio, shown here in 5-door RX-V guise, is proof that you don't have to spend a lot of money to get a fun, reliable and good looking little car. (Photo: Kia Canada)
quality scale due to their bottom feeder price points when new. But as Kia has recently shown, you don't have to spend a lot to get a good, reliable little car.
The Rio looks good too. Whether in 4-door sedan or 5-door RX-V guise, it has an upscale design in a class that is made up of fairly utilitarian-style rivals. Actually, I like the original chrome embellished 2001 through 2002 version better than the mid-cycle upgrade that modified the grille, headlights, front fascia, front fenders, taillights and rear fascia for 2003. The first had a cleaner look, truer to the original designer's initial stylistic intentions.