There's something Infiniti did with the G35's styling in coupe form that made it stand out more than anything in its class. It looked alive- like it should be inhaling and exhaling, looking around, and flexing its muscles. Of course, the sedan wasn't too hard on the eyes either- and you could get one with all wheel drive, a six-speed manual and seating for five. With a selection of body styles and powertrains for their G lineup, Infiniti followed a golden rule among premium automakers- namely that appealing to more of a market will sell more cars.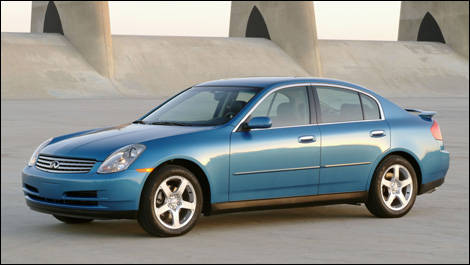 2004 Infiniti G35 Sedan
And so it went when the G35 sedan went on sale in the spring of 2002 as a 2003 model. After this, the sedan was followed closely with the two-door variant and an additional transmission choice. Both models were rear-drive and available with a 5-speed automatic or 6-speed manual. Some models could be fitted with powerful Brembo brakes, and all wheel drive was available on any model- as long as it had four doors and an automatic. Power came from an overachieving V6 engine which won many awards internationally for smoothness, performance and quality. In sedans, it generated 260 horsepower, while coupes got 280 initially. In 2005, Infiniti put the 280 horsepower engine in every automatic coupe and sedan, while all manual-shift models received 287 horsepower.
According to awards from Motor Trend and Car and Driver, the G35 was a viable option to give European machinery a run for its money. Based on the "FM" platform housing the Nissan 350Z and Infiniti FX35, G35 won Motor Trends Car of the Year for 2003, and wound up on Car and Driver's ten best lists for 2003 and 2004. Media praised the G35's bold dynamics and hailed it as a 'real driver's car'. It's often said to have the best powertrain, reflexes and performance in its price range.
If you're looking for things like a premium audio system, heated seats, xenon lights, wood trim, automatic climate control, a sunroof and other upper-scale gadgets, you've fallen upon the right car. But like any used machine, it's not perfect- and the G35 has a very loyal following of online owners and fans to tell you about it.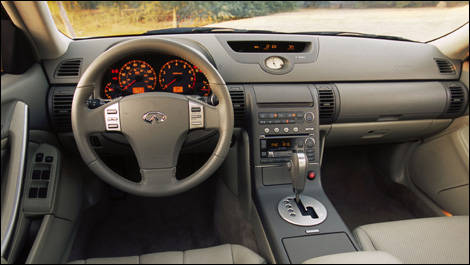 2004 Infiniti G35