2003 Chrysler Airflite Concept - Classic American Style Revisited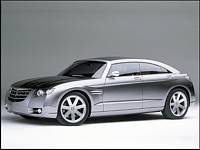 Chrysler just couldn't resist teasing European auto enthusiasts with its Airflite concept in Geneva last month. And being that its design is believed to strongly hint at the next generation Chrysler 300-Series, I couldn't resist showing it to you.
But Chrysler's upcoming products aren't only being created with North America in mind. The stunning little Crossfire coupe is slated to debut on the old continent at the same time as it does across the Atlantic, a first for the winged brand. But do Europeans want big American cars?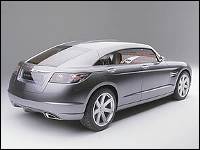 Europeans hate to admit a love affair with Americana. Drive a Corvette or Harley around Italy and Ferraristi will snap their collective heads around in mass approval. On a road trip from Cannes to London a few years back I couldn't even find a room in Milan due to an Americana festival - the thought of the supermodel capital of the world all wearing Stetsons had a slightly younger, much more single me grieving.
The all-American Airflite pulls a ton of styling cues from the little coupe I just mentioned. Its grille is an enlarged carbon copy, as are the lights, ribbed hood and side vent strikethroughs. Its swept back C-pillar and functional hatchback design is a bit like the Crossfire too, but to be reasonable it's difficult to directly compare a 4-door sedan to a 2-door coupe when discussing rooflines and profile styling.