2003 Chrysler 300C Concept - What? Were You Expecting Something Average?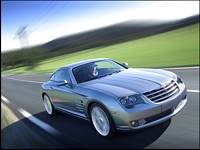 Chrysler's new Crossfire is by far the best made product from a domestic brand. (Photo: DaimlerChrysler)
Recently I had the pleasure of experiencing Chrysler's new Pacifica and Crossfire first hand, and know just what this reinvented automaker is capable of if it puts its mind, and the collective resources of partner Mercedes-Benz, to the job - head-of-class quality, dynamic performance and stunning style. Chrysler Group president and CEO Dieter Zetsche is determined to continue this trend in all his Chrysler products, with the flagship Letter Series cars leading the way.
"With recent introductions including the innovative Chrysler Pacifica sports tourer and the head turning Crossfire sports coupe - and now the all-new 300C - the Chrysler brand has one of the most impressive product portfolios in the industry," stated Zetsche. "These vehicles will enable us to move the Chrysler brand to a premium position within the U.S. (North American) market."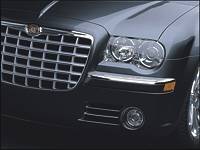 The upcoming Chrysler 300 will be a bold statement of power and elegance. (Photo: DaimlerChrysler)
Chrysler a premium brand? While company officials are quick to differentiate the American luxury brand from a true premium carmaker like Mercedes-Benz, there's no doubt they're taking it further up the automotive pecking order, aligning it with domestic luxury nameplates such as Lincoln, and in some cases Cadillac.
The new 300C will go a long way to magnifying this objective. Just from a styling perspective alone it makes an impressive, bold statement. The new concept, said to closely resemble the production replacement for the current 300M, stakes more road presence than anything currently offered by the alternative domestic luxury brands. Its dominating chrome grille is distinctive, even from other Chryslers, but its winged emblem that spans its entirety states loyalties loud and clear.