But such style and grace doesn't end at the dashboard. Audi has tastefully applied real wood trim to the doors, center stack and console. Its restrained use is appreciated, as is its beautifully polished finish and perfect fit, elevating the cabin ambience. All interior surfaces exude an upscale refinement and feel actually, with no hard, shiny or sub-standard materials to cheapen the experience. Fit and finish is impeccable too.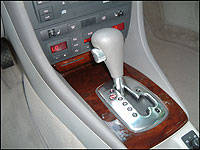 All interior surfaces of the A6 exude an upscale refinement and feel. (Photo: Rob Rothwell, Canadian Auto Press)
Any concerns that the Audi's good looks and gentlemanly manners may only be skin, or should I say hide, deep, however, evaporate after a few short minutes in the superb seats. Infinitely adjustable, they also include no less than six heat settings. The large headrest in each of the five seating positions is adjustable for height, with tilt adjustment applied to the front seat headrests as well. Legroom is abundant, even with the front seats at maximum rearward travel, and head space is generous. Two pop-out cupholders deploy from the end of the center armrest in the rear, further assuring baggage class itinerants that their comfort is just as important as those up front.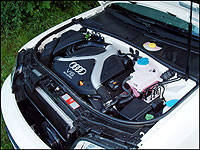 The 265-hp 30-valve, DOHC, 2.7-liter (165-cu in), bi-turbo V6 engine is simply exhilarating. (Photo: Rob Rothwell, Canadian Auto Press)
Regardless of which seats are occupied, all will be in for a motoring treat once the switchblade key is inserted into the ignition and twisted, firing up the sweet sounding 30-valve, DOHC, 2.7-liter (165-cu in), bi-turbo V6. While it pumps out an aforementioned 265 horsepower, its real virtue is its rather exhilarating torque rating of 280 foot-pounds available as low as 1,800 rpm. Such pulling power at this low rpm generates forceful acceleration with only a slight squeeze of the throttle. Frenetic revs are hardly required to achieve authoritative passing or green light domination, with the 2.7T doing all that and more without breaking a sweat or losing its genteel persona. In fact Audi cites a 0 to 100 km/h (62 mph) time of only 6.4 seconds, despite its rather hefty (for a midsize luxury sedan) curb weight of 1,795 kg (3,958 lbs).